Do Live Sports Events Have a Home at Netflix? Experts See a Potential Future, But Not Anytime Soon.
Netflix is reportedly taking its first steps into broadcasting live sports events. The streaming giant is in discussions to host a celebrity golf tournament. The planned competition, set to take place in Las Vegas, will feature well-known figures from Netflix's sports docuseries, including Formula One's "Drive to Survive" and the PGA Tour's "Full Swing." The event's timing is still under discussion, marking a new venture for the company that, like other streaming platforms, has been experiencing slowing subscriber growth and a lack of new markets to expand into.
Despite these challenges, Netflix, which generated $31.6 billion in revenue in 2022, continues to focus on cost-effective investments in original content. This strategy has led to the production of popular shows like Wednesday and Stranger Things and the distribution of noteworthy films, earning the company more nominations at the 2020 Oscars than any other film studio. However, with the first decline in subscriber count reported in Q1 2022, the company is exploring new ways to attract and retain its audience. Its position as the number one streamer makes it an attractive place to land a live sports deal. And with a strong relationship with F1, a broadcasting deal between the two doesn't appear out of the question.
Is Netflix's celebrity golf tournament a sign of more live sports events to come, or is it simply a test run for something bigger, aligning with Netflix's strategy of owning events, distributing them globally, and promoting its other series? As the company continues to build its technical infrastructure to support live content, the verdict remains on how this new venture will impact its standing as the most popular streaming service in the US. Still, all streaming and broadcast networks are looking to cash in on live sports events, and Netflix won't be able to wait forever.
Darren Campo, SVP of Programming Strategy at Food Network and The Cooking Channel, isn't convinced Netflix is about to launch live sports events at scale, but does that mean he believes they aren't making serious plans?
Darren's Thoughts:
"Netflix's upcoming foray into a live celebrity golf tournament does not indicate to me that they're about to enter the live streaming sports business. Rather, they will look at three key data pieces from this. One is tune-in. Unlike their past live comedy specials, do they get better tune-in for a sports event? The second piece of information they're going to be looking for is of the people that tuned in for this live event. Did they go on immediately to watch other library content on Netflix? And thirdly, they will be looking at what library content these people came in for this live sports event, then go on to watch. And can they build a case for a live-streaming sports package? Netflix has been so disciplined in not overspending on sports licensing, and they're in such a good position with Wall Street right now compared to all of their other media competitors. I don't see them jeopardizing that by investing in live-streaming sports anytime soon."
Article by James Kent.
Latest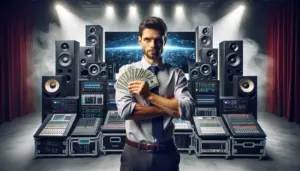 December 8, 2023
Mastering AV sales strategies in a global professional audio-visual (Pro AV) market, poised to reach $79.2 billion by 2028, requires much attention to detail. The surge in demand from corporate, government, and institutional sectors, driven by the need for enhanced productivity and efficient working environments, gives AV sales pros a lot of opportunity. In […]
Read More