MarketScale Live: Why Storytelling is Vital to Connecting with Customers
On this episode of Market Scale Live, John Merris, the CEO of Solo Stove, shared his insights on the power of storytelling in B2B marketing. Merris is known for his ability to bring energy and storytelling to the companies he leads, and he believes that storytelling is the key to success in every business he has been a part of.
Merris began the episode by emphasizing that storytelling is the essence of all connection. From the relationships we have with our families and friends to the stories we consume on Netflix, stories have the power to captivate us and connect us on a deeper level. However, in the world of B2B, many companies believe that their products are too technical or important to be the subject of storytelling. Merris is here to debunk that myth.
During the episode, Merris shared his own personal experiences with storytelling, beginning with his father's influence on his career path. His father was a masterful storyteller, and Merris learned from him the importance of storytelling in connecting with others. He then went on to talk about his time at Clarus Glassboards, where he used storytelling to connect with customers and build relationships based on trust and shared values.
Merris emphasized that storytelling applies to all businesses, regardless of industry. He explained that the ability to tell a good story is especially important in the world of sales, where the best way to handle an objection is to tell a story. People get ingrained when they hear a story, and they want to hear more. By telling stories, salespeople can grab attention at the beginning and handle objections effectively.
So, how can companies incorporate storytelling into their B2B marketing strategies? Merris offered some practical tips, including:
Understand your audience: Before you start telling stories, it's important to understand who your audience is and what their pain points and goals are.
Be authentic: Don't try to be something you're not or tell stories that aren't true to your company's values.
Be consistent: Storytelling is an ongoing process. Make sure that you're consistently telling stories across all of your marketing and sales channels.
Experiment: Not every story is going to resonate with every audience. Try different approaches, see what works and what doesn't, and then adjust and refine your strategy accordingly.
In conclusion, Merris believes that storytelling is the key to success in B2B marketing. By understanding your audience, being authentic, and being consistent, you can use storytelling to connect with your customers on a deeper level and build lasting relationships based on trust and shared values. So, don't be afraid to tell your story – it may be the key to unlocking your B2B success.
Latest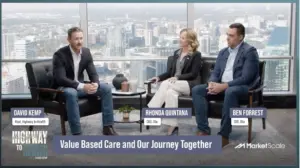 December 7, 2023
As of recent times, the healthcare industry has been progressively shifting towards value-based care, a model that emphasizes patient outcomes over the quantity of services delivered. This transition represents a significant shift that promises to enhance patient experiences and outcomes while controlling healthcare costs. With a growing emphasis on this approach, especially over the […]
Read More