BMPCC4K Tips: The Difference Between Constant Bitrate and Constant Quality
In this write-up, we take a look at the new encoding options that come with Blackmagic RAW: constant bitrate and constant quality.
Earlier this year, Blackmagic Design retired the CinemaDNG format from their camera line (not you, URSA Mini 4.6K) and replaced it with Blackmagic RAW. The new codec offers some exciting features to the BMD camera lineup. We'll look at the specifics at a later date; however, Constant Bitrate offers four encoding options: 3:1, 5:1, 8:1, and 12:1. And Constant Quality offers two quality settings: Q0 and Q5. What do these new settings mean? Let's take a look.
Read more at Premium Beat
Latest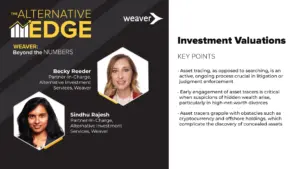 December 4, 2023
In this episode of The Alternative Edge, a Weaver: Beyond the Numbers Podcast, host Becky Reeder, an audit partner and co-leader of the alternative investments practice at Weaver, engages with Sindhu Rajesh, an Alternative Investment Services Partner with Weaver. They unpack the complexities of venture fund valuations, offering critical insights into industry dynamics and best […]
Read More