Color Temperature and 3 Point Lighting Basics
Ready to light your first shot? Learn how to set up a basic three-point lighting arrangement, and discover how the kelvin scale will affect the color temperature of your footage.
Open any book on the practices of filmmaking, and it's a sure bet that within the first dozen pages, you'll find a sentence that starts, "With good lighting, any scene…" But what is "good lighting" and how can you achieve it as a beginner? The best place to start is with a three-point lighting setup.
Lighting a scene has an infinite amount of variations and arrangements, but a three-point setup is all you need in the beginning. In this article, we'll break down the measurement of color temperature on the Kelvin scale and look at the process of setting up a basic three-point lighting kit. This is all the info you need to properly light a shot.
Read more at Shutterstock
Latest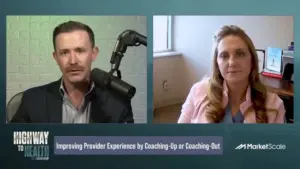 November 28, 2023
Improving healthcare is a multifaceted challenge, with the provider experience playing a pivotal role alongside patient care. In a recent episode of the "Highway to Health" podcast, host David Kemp delved into this critical issue with Stephanie Prechowski, MBA, MSN, RN, AGCNS-BC, CNOR, Chief Operating Officer at Surgeons Choice Medical Center. In this episode, […]
Read More