Panavision's Camera-to-Finish Imaging Ecosystem Featured at Cine Gear 2019
(Los Angeles, CA–May 30, 2019) Panavision, the world-class provider of end-to-end solutions, will return to Cine Gear Expo (May 31-June 1) at The Studios at Paramount to showcase the latest innovations in the company's ever-expanding production and post production ecosystem. Panavision, Light Iron and LEE Filters will display an array of integrated technologies and systems at booth S408 on Stage 3 – ranging from lenses, cameras and filters, to state-of-the-art production and post production workflows – that illustrate Panavision's commitment to providing the most versatile and powerful storytelling tools.
"At Panavision, our vision is to support filmmakers with solutions that expand creativity and efficiency," says Kim Snyder, president and CEO of Panavision. "We're always focused on adapting the tremendous power of technology to the needs of the visual artist. We're proud and excited to demonstrate our latest advancements."
Among the breakthroughs on display are Panavision and Light Iron's new LINK HDR system. Creatives are producing for HDR-capable distribution platforms more than ever before as consumers seek premium viewing experiences. LINK HDR was developed to address the challenge of viewing HDR (high dynamic range) images throughout the production and post production process. Offering HDR and SDR viewing options in tandem, LINK HDR provides cinematographers, directors, editors and creative talent throughout the imaging chain the ability to view their image at the same quality delivered to consumers.
Read more at Creative Cow
Latest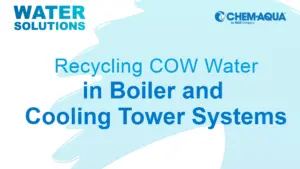 December 7, 2023
For the latest episode of ChemAqua's Water Solutions podcast, the focus was on an innovative approach to water conservation in the dairy industry. The show examined the potential of reusing Condensate of Whey (COW) water, a byproduct of dairy processing, and highlighted some of its economic and environmental benefits. Hosted by Dani Waddell, the informative […]
Read More