Straight Outta Crumpton: Paying it Forward in Business Relationships with Adi Avin
Hosts Greg Crumpton and Tyler Kern are back for another episode of "Straight Outta Crumpton," your source for insights on the relationships and people that drive the HVAC and mechanical industry and beyond.
On this episode, the duo is joined by gardin, LLC. founder and CEO Adi Avin. Avin's gardin is an interior plant design studio in Charlotte, North Carolina.
Crumpton and Avin said their relationship is founded on a share love for simply talking business. The foundation of many a good relationship is having something in common, and business relationships are no different – it doesn't take a specific interest or hobby to find common ground, either.
"If we'd see each other out (during the pair's time in the ballroom dance industry), we'd both just kind of move to the side and talk business," Avin said. "It's much more interesting and fun, and I've always just loved bouncing ideas off Greg. He's got so much to contribute. I would say he's really been like a mentor to me."
"Scar tissue's hard to beat," Crumpton said.
Throughout this episode, Crumpton and Avin offer insights from each of their perspectives on business relationships, give and take, spreading awareness of others' journeys and businesses, and the value of paying it forward.
"The amazing thing is that Greg has put the word out on my business, and he's completely selfless," Avin said. "He wanted nothing in return."
Stay tuned for more episodes of Straight Outta Crumpton coming soon.
For the latest news, videos, and podcasts in the Building Management Industry, be sure to subscribe to our industry publication.
Follow us on social media for the latest updates in B2B!
Twitter – @MarketScale
Facebook – facebook.com/marketscale
LinkedIn – linkedin.com/company/marketscale
Latest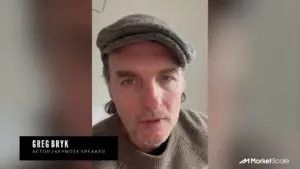 November 30, 2023
In a crowded marketplace, authenticity could be the strongest differentiator in standing out from the competition. Actor and Keynote Speaker Greg Bryk shares his insights on making a mark, on-screen and in the B2B arena. Bryk emphasizes the power of authenticity over pandering to the audience. He explains, "The way to stick out from […]
Read More