Embracing Crazy Ideas with Kobi Yamada
From digital health services in healthcare, and drone delivery services in technology, to creating a biliteracy instructional framework in education, innovators, change-makers, disruptors, and idea people create the solutions that make a difference in the world today.
Is there ever an idea that's too crazy? Not in Kobi Yamada's book, it's not. Embracing crazy ideas is what Yamada is all about. He is a New York Times Best Selling Author and the CEO of Compendium, Inc. Yamada started Compendium thirty years ago to bring thoughtful and inspiring gifts to the masses. And then he had a crazy idea to write a picture book. That book, What Do You Do with an Idea, led to others.
Because Yamada's books talk about creativity, courage, and persistence, they are often referenced, discussed, and taught in college and business settings.
Dustin Odham, host of Change Starts Here, spoke with Yamada about his career, the concept of embracing crazy ideas, and how he uses his books to foster that idea growth within people.
Odham and Yamada discuss:
The nature and value of ideas
Putting action into inspiration
Yamada's company, Compendium
"Compendium, at its heart, wants to make gifts," Yamada said. "And they want to make gifts for people to share, connect, appreciate, and celebrate. We make journals, gift books, greeting cards, pop-open cards, and children's books. We love the power of words. We love inspiration, and that inspiration is sort of in the DNA of the company. It's something that ties and threads each product together."
About Kobi
Kobi Yamada is a multiple New York Times bestselling author, including the award-winning picture books: What Do You Do with An Idea?, What Do You Do With A Problem?, What Do You Do With A Chance?, Maybe, Trying and Because I Had A Teacher, Because of You, Mom, Because of You, Dad, Finding Muchness and The Candy Dish. His books have sold millions of copies and inspired a dance performance, a symphony performance, a musical theater performance, and an upcoming animated film. His books appear in over thirty languages. Kobi also serves as the President/CEO of Compendium, Incorporated, an inspiring gift and publishing company.
Get a discount on all of Kobi's books!
Compendium: https://www.live-inspired.com/
Discount: 20% off, expires 6/30/23
Promo Code: STARTHERE20
Latest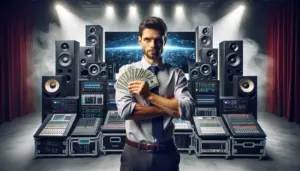 December 8, 2023
Mastering AV sales strategies in a global professional audio-visual (Pro AV) market, poised to reach $79.2 billion by 2028, requires much attention to detail. The surge in demand from corporate, government, and institutional sectors, driven by the need for enhanced productivity and efficient working environments, gives AV sales pros a lot of opportunity. In […]
Read More