Addressing Food Insecurity in a Disrupted World

Climate change is undoubtedly playing a role in unpredictable weather phenomena around the globe. As the world becomes warmer, who is addressing food insecurity and what is being done to help protect food security?
In this newest episode of DisruptED, host Ron J. Stefanski speaks with food security innovator, Rick Vanzura, the CEO of Freight Farms, about the issue of food security globally and hydroponic farming.
Freight Farms uses shipping containers to help bring fresh food availability to those in remote or inhospitable environments around the globe, with no soil and minimal water.
Vanzura remarked, "The coolest thing to me about the job so far has really been that global community of farmers. We now have over a thousand of them spread all over the globe and you know, at a time when there's so many of these national, political issues…to see all of these people around the world that are joined in common cause, sharing their experiences, sharing their pain, sharing their successes…it's just been super gratifying."
Vanzura and Stefanski discuss…
● How Vanzura got into empowering people through Freight Farms
● How Freight Farms has grown to be the world's largest IoT connected community of commercial farms
● How a shipping container farm can drive biodiversity and help by addressing food insecurity crisis one farm at a time
"Part of what we would like to do is…say to the person in Alaska, 'Your ability to consume what you want when you want it, and have these elevated experiences and really get this sort of sensory experience somebody in central or northern California is going to get, you don't have to fly there, you don't have to move to get it,' we can help you get that same experience locally through this technology," said Vanzura.
Vanzura is CEO of Freight Farms, a modular farming network of IoT-connected farms across 49 states and 40 countries. He has spent over 25 years in President and C-level positions, including with Panera Bread, Wahlburgers, and Alma Nove. His experience spans both public and private companies, as well as everything from Fortune 500 companies to start-ups. He is a graduate of Santa Clara University with his BSC in Economics and Finance and earned his MBA from Harvard Business School in General Management, with a finance and marketing specialization.
Latest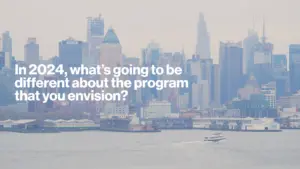 December 1, 2023
In the dynamic telecommunications landscape, Verizon's Partner Network continues to evolve, adapting to new trends and opportunities. For another segment featuring Mark Tina, VP of Indirect Channel Distribution and Channel Chief at Verizon Business Group, he explores exactly what types of significant changes and advancements the Verizon Partner Network will see in 2024. In this […]
Read More