Dust Mask Shortage Puts Construction and Engineering Workers in Respiratory Peril: Business Casual
Powered by RedCircle
From using machine tools that produce fine dusts and particles or silica dust from bricks and concrete, respiratory hazards are common in the construction and engineering fields. A vital component of respiratory protective equipment (RPE), dust masks are used to control respiratory hazards, helping to protect workers from lung and airway diseases such as emphysema, bronchitis and silicosis while decreasing the risk for cancer. However, due to the COVID-19 pandemic, sourcing FFP2 and FFP3 dust masks for work purposes has become a challenge for many firms, sparking concerns not only about a shortage of dust masks, but inflated prices when they are available.
On this snippet of Business Casual, Tyler Kern and Daniel Litwin break down the findings of a recent survey conducted by several trade bodies as well as the Construction Industry Coronavirus Forum (CICV Forum) regarding both the availability and escalated costs of dust masks, and the effect the shortage and inflated pricing of this critical RPE element are having on both employee safety and the construction industry as a whole.
Every week, Business Casual brings topics to the forefront that affect operators and workers in the Engineering and Construction sectors as well as other B2B industries. Tune in each Wednesday and Friday to stay abreast of the trends and news shaping our world today.
Follow us on social media for the latest updates in B2B!
Twitter – @MarketScale
Facebook – facebook.com/marketscale
LinkedIn – linkedin.com/company/marketscale
Latest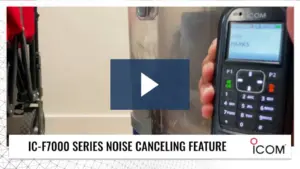 September 27, 2023
In this brief product demonstration video, ICom's IC-F7000 Series receives a mic test of its noise-canceling feature. Through the two demonstrations it is clear the IC-F7000 removes loud ambient noise for clear two-way communication.
Read More