Chipotle's Expansion Strategy and Market Research Efforts are Sizzling Hot. Other Restaurants Take Note.
Chipotle's big foil burritos and piled-high burrito bowls are  coming soon to hundreds of small towns across America as part of the company's massive growth and expansion plan. Despite potential supply challenges due to its reliance on fresh ingredients, Chipotle is ready to take on established chains like McDonald's and Applebee's.
Chipotle's new strategy has driven shares up by 53% this year, outperforming other large restaurant stocks and raising its valuation to $58.7 billion. But how is the company able to be so successful?
Chipotle has been successful so far because the company understands the balance between growth and efficiency, while also maintaining a commitment to community engagement, market research, and a keen understanding of local tastes.
Vafa Saboori, Ph.D., Associate Professor of Operations Management and Supply Chain Management at Dominican University of California, provides further insight into Chipotle's strategy and success.
Vafa's Thoughts:
"My name is Dr. Vafa Saboori, Associate Professor of Operations Management and Supply Chain Management in Barowsky School of Business, Dominican University of California.
Chipotle wants to open between 700 to 800 new locations in small towns like Inverness, Florida, and Fairbourn, Ohio. This move, which is way different from what they are doing usually, which is focusing on the big cities, shows that they have planned a new approach to growth and expansion. They have experienced this success in the bigger markets, which has sent their stock prices up to 53% this year, and put them ahead of competitors like McDonald's and Starbucks and so on. This is a big reason for this strategic decision, in my opinion. They have $8.6 billion in sales last year. This is huge.
Chipotle is now the 10th largest restaurant chain in the United States, which is a big deal in this very competitive food industry. They are trying to find out a balance between growth and efficiency, and this is why they are focusing on markets with 40,000 people or less. They are taking into account logistics like shopping centers, highway access, and so on. Their goal is to set locations about 90 minutes from major cities so they can build their brand without putting too much strain on their resources and use the current infrastructure that they have in place.
Their focus on getting involved in the community is very important. Their approach is based on doing thorough market research and find out what is the taste of local people, and by doing so, they will change their menus to fit the taste of people in that area.
Chipotle is starting to expand also internationally outside the United States. Their first franchise is going to be in Dubai and Kuwait in the Middle East, and if this project works out, it will create much new opportunities for growth.
If I want to give advice to other fast food restaurants or quick serve restaurants or fast casual restaurants like Chipotle that they want to expand to small towns, I would say that they should do a thorough market research as well, and they should get involved in the community. For a long-term success, it is very important to know the specific taste and preferences of the target audience.
Also, another very important success factor is investing in technology. They should have a very smooth infrastructure for online ordering and delivery services like Chipotle. Chipotle, in this case, has this infrastructure, and you need to make sure that customers have a smooth experience. In order to avoid problems in these less densely populated small towns, a very strong supply chain and distribution network must be set up, just like the one that Chipotle is using and is tapping into its current infrastructure and supply chain.
Chipotle's plan to expand into small towns in America is a very smart move to keep their impressive growth trend going. It shows how flexible they are and how well they know what people want. As a well-known brand, they continue to make plans for global growth, while staying true to their core values. I guess we will see what's going to be the result of this new move, but we continue to see how this strategy works out, and it will definitely teach other businesses how to find new ways to do business in the food industry. Specifically, the food industry is ever-changing, so I believe it would be very interesting to see how this will turn out."
Latest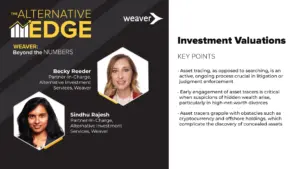 December 4, 2023
In this episode of The Alternative Edge, a Weaver: Beyond the Numbers Podcast, host Becky Reeder, an audit partner and co-leader of the alternative investments practice at Weaver, engages with Sindhu Rajesh, an Alternative Investment Services Partner with Weaver. They unpack the complexities of venture fund valuations, offering critical insights into industry dynamics and best […]
Read More