Competition Heats Up as Technology Transforms the QSR Industry
By now you are probably accustomed to all new ways to get fast food. Companies are trying out everything from voice assistants, smart menu boards, automated ordering and now they can even take payments with facial recognition. It is the fast food digital revolution… and the competition is fierce. So who is at the top of their game?
Quick service restaurants that invested in technology before COVID are taking an early lead in the digital space. Two years ago, Church's Chicken started multiple initiatives to build brand awareness, increase sales and optimize operational efficiency.
The corporate team launched a new digital workplace to improve internal communications. Today, employees and franchise owners collaborate on the Team Church's platform featuring interactive content and resource sharing capabilities. Internal Communications Manager, Allyson Konrad, has been a key leader on the project and expressed the importance of how internal branding and employee experience builds consistency.
"One of the benefits that we've seen with Team Church's on a corporate level is being able to share brand news and really engage with other employees…So the marketing team can easily share information with the supply chain team on one tool. It's really made our days really efficient, which has really helped productivity," she said in a Q&A with Akumina. 
The intranet was a smash hit across the board. Engagement from employees at the corporate level to franchise owners and even individual restaurant staff jumped from 20% to more than 80% since implementing Team Church's.
The digital transformation did not stop there. The Church's team also updated their website and focused on their mobile app to allow guests to make no-contact pick up orders, use exclusive app-only promos and favorite items for easy re-ordering. These efforts were combined with renovating the brand's social media engagement. The team's digital renovation paid off. In 2020, Church's saw a 540 percent increase in Order Ahead sales, 77 percent increase in third-party delivery sales and a 16% digital conversion rate.
McDonald's also got into the tech game early. The Golden Arches began working with artificial intelligence start-ups, Apprente and Dynamic Yield, before the pandemic hit. McDonalds has used voice technology to speed up order-taking and personalize digital menu boards. This technology collects customer data to automate their preferences and predict orders which has cut service time by 30 seconds per customer. With the "Accelerating the Arches" growth plan, McDonalds was already ahead of the game when they began to roll out their rewards program in the U.S. but it didn't take long for the competition to catch up.
Just a few days later, archrival Burger King debuted their own "Royal Perks" program. These burger companies aren't the only restaurant chains on a mission to grow their base of loyal customers. StarbucksandChipotle have launched successful rewards programs and with good reason. The data builds a customer profile that predict orders, personalize promotions, make payments easier, and entice consumers to stop by restaurants when times are not as busy.
Latest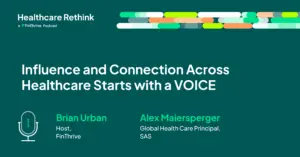 September 29, 2023
In the latest episode of the Healthcare Rethink podcast, presented by FinThrive, host Brian Urban sits down with Alex Maiersperger, the Global Principal Healthcare at SAS. Their conversation charts the role voice plays in influencing and connecting the healthcare industry. Maiersperger, who co-founded the Advancement League, shares his journey from being a healthcare optimist to […]
Read More