Consumers Continue to Dine Out Amid Inflation. How Should Restaurants Respond?
June's high inflation numbers on both the consumer and producer end have reshaped customer-business dynamics across basically every industry. Various compounding issues, from geopolitical turmoil to lingering pandemic-era disruptions to the supply chain, have put people in a position to become more cautious with their money. The domino effects of inflation onto grocery stores, restaurants, and consumer spending habits, though, has been a curious one to watch for industry professionals.
The larger food & beverage industry is not immune to producer-side inflation, trickling down to customers and in fact acting as one of consumers' prime examples of inflation at work, as grocery item prices continue to climb. According to a recent Harris Poll, 90% of Americans are worried about the increase in prices on groceries. More than half of Americans have claimed the price hikes on groceries, like dairy products, have motivated customers to take fewer trips to the store.
Perhaps surprisingly, concern for rising food prices is actually having an inverse effect on consumer's restaurant spending, creating a unique opportunity for restaurateurs. With the rising costs of food, the gap in costs between buying groceries and going out to eat has shrunk, and inflation hasn't deterred Americans from dining out consistently. PopMenu research from May 2022 found that, on average, 40% of consumers' monthly food budgets are going to restaurants; in a different survey of 1000 consumers, 29% of people responded that it's cheaper to eat out compared to buying groceries, and another 27% said it cost the same but saved them valuable time.
It's clear that a significant portion of consumers still want to eat at restaurants. They not only get the convenience of not having to cook while sharing in an experience that was highly missed during the pandemic.
"Also the ambiance, the restaurant is coming out ahead on that regard. They can offer value to their diner to get people to come in, and they can work with them that they're feeling this inflation and see where it is," said Barbara Castiglia, executive editor and host at Modern Restaurant Management.
Sales results from Amazon Prime Day reflect this trend, as well. While the ecommerce giant reported 300 million items sold, its biggest Prime Day ever, it did not sell the usual items. The on-sale items that consumers ordered the most this year were necessities such as household items, utility items, and non-perishable foods, while big-ticket items were largely ignored.
Not only are consumers using major sales events to buy typical and often non-consequential grocery items in bulk and at a discounted price, but a reluctance to spend hundreds or thousands of dollars on new consumer electronics or hobby items also signals that consumers have likely lowered the ceiling for what they consider a luxury purchase. This leaves the experience of restaurant fine dining as a perfect candidate to satiate consumers' high-end spending desires.
The same PopMenu survey backs up this notion; more than 40% of people would sooner give up travel and new clothing than lose eating out.
"All very encouraging for restaurants that people are willing to spend the dollar and want to go to restaurants," Castiglia said.
Although the consistency of diners is great for restaurants during this period of inflation, especially with an impending recession, Castiglia explained that many restaurants do not have the staff to properly serve an increase in demand. Owners are struggling with supply chain shortages as more costly; some restaurants have even been adding inflation fees to consumer bills in an effort to mitigate these challenges. These factors could dampen some of the impact from this unique opportunity to capitalize on consumer demand.
The lingering question is what can restaurants do to continue serving their customers without raising their prices or adding fees? Castiglia offered some advice, starting with leveraging seasonal menu items, unique experiences and cheaper suppliers.
"They can find different produce or different supplies that might be a little lower cost and can offer those as specials or make them available as part of a value," she said.
If consumers are maintaining their dining out spend because they're focused on a shrinking cost differential, restaurants should be too. Restaurateurs should be weary of creating a counter narrative to that shrinking gap by raising prices either to boost profit margins or to try to combat rising producer-side prices.
Castiglia also points out that people want to eat healthier and are turning towards plant-based foods along with fresher food options. The referenced PopMenu survey found that when consumers were making dining choices, they felt that they'd eat healthier at restaurants than they would at home. Providing healthier menu options could be a good long-term investment to build more consistent reasons for diners to choose the booth instead of the couch.
Latest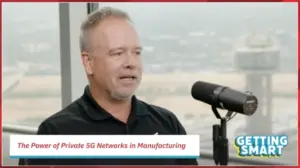 September 25, 2023
The Convergence of 5G and Automation in Manufacturing: A New Industrial Revolution The manufacturing industry stands at an inflection point. Advances in 5G technology and automation are coming together to transform the way products are made, and the role that humans and machines play in this process. Per Treven, Director of Business Development at Ericsson, […]
Read More