QSR's Are Struggling to Cope with Record High Food Costs While Maintaining High Quality
The chicken wing shortage from earlier this summer continues to impact the food & beverage industry, leaving suppliers and restaurants scrambling to respond. This could only be the tip of the iceberg, though, in long-term impacts to the food supply chain.
Food prices are hitting record highs, and because of the compounding issues squeezing farmers, producers, packers and grocers, there is no clear sign as to how long this price hike will last. How are the QSR's and lower-priced restaurants that rely on appealing to a consumer's wallet going to be able to adjust?
We pinged the host of The Main Course, Barbara Castiglia, on how restaurants will need to address their supply chain and pricing to keep their fans happy during this volatility.
Latest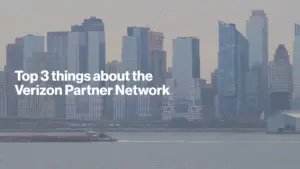 December 1, 2023
For a continuation episode of The Verizon Partner Network's special segment with team leaders, Mark Tina, VP of Indirect Channel Distribution and Channel Chief at Verizon Business Group, joined again to outline the three top aspects that define the Verizon Partner Network and its approach to collaborative success. The video centers on Tina's explanation of […]
Read More