Union Avoidance or Neutrality? Chipotle Faces a Critical Decision as Michigan Store Unionizes
Marking a first for the national chain but a familiar trend for the year, a Chipotle restaurant in Lansing, Michigan, has voted to unionize, the first of the company's 3000 locations to do so in its near 30-year history. Current employees are seeking improved scheduling, increases in wages, and better work safety conditions. Chipotles' Lansing employees first filed for a union election in July of 2022, and with their 11-3 vote count are now officially represented by the International Brotherhood of Teamsters.
Though Chipotle is the most recent major brand in QSR to experience unionization, it is not the first. Starbucks has been maneuvering its own wave of labor organizing for over a year with a very public union avoidance campaign. Much like Chipotle, Starbucks workers called out the company for increased worker protections, better staffing, and fairer wages in more acute fashion since at least the start of the pandemic. Perceived inaction around their demands later fueled the creation of Starbucks Workers United, a more concerted and cohesive union movement across Starbucks stores "to bring out the best in all of us."
Professionals like Saru Jayaraman, President of One Fair Wage and Director of the Food Labor Research Center at University of California, Berkeley, who has worked on national campaigns to end subminimum wages and has mobilized workers primarily in food industry sectors, sees a clear through-line between Chipotle's recent union win and the last year of resurgent labor energy.
"I do think Amazon and Starbucks workers are looking at what each other's doing and continuing to inspire each other. The real impact is workers across the economy, particularly low wage workers…are continuing to inspire each other each time they stand up," Jayaraman said.
In 2021, the Bureau of Labor Statistics reported that union membership was highest among workers ages 45-54 and lowest among workers ages 16-24. However, this trend could be reversing, and Chipotle's union win only validates the possibility of such a shift. Many of the workers organizing Starbucks stores are baristas in their late teens and early 20s, and the employees who led Lansing's Chipotle union charge were 18, 19 and 23 years old.
"This next generation of younger workers isn't hung up on exactly what it is that they are demanding or fighting for, they are just very committed to making sure they get their rights," Jayaraman said. "Not just their rights, but they get what they need to have a safe dignified workplace that allows them to survive and thrive and feed their families."
Learning from Starbucks for Chipotle Union Engagement Strategies
Traditionally, food and drink establishments have been among the least unionized workplaces in the U.S.; according to the Bureau of Labor Statistics' end of year report, only 1.2% of workers in said sector were members of a union in 2021. Clearly, though, recent labor energy has gained steam in food service, making up 27.5% of all union election petitions this year as of May 2022. Since the start of employees' union campaign and the first union vote win in December, 327 Starbucks stores have petitioned for a union and 235 of those have voted in favor of unionizing.
Could Chipotle see the same sort of dam burst of pent-up labor energy? And is Chipotle going to follow in Starbucks' footsteps of a carrot-and-stick anti-union strategy, or will it chart a more neutral path with recently-organized workers? Comparing how the two stores engaged with early union wins, it seems that Chipotle is framing a similar narrative to Starbucks:
"We're disappointed that the employees at our Lansing, MI restaurant chose to have a third party speak on their behalf because we continue to believe that working directly together is best for our employees," wrote Chipotle spokesperson Laurie Schalow in a statement to news outlets.
Compare that to Starbucks former EVP Rossann Williams' letter to partners after Starbucks' first union win in Buffalo, New York:
"From the beginning, we've been clear in our belief that we do not want a union between us as partners, and that conviction has not changed."
If this language is a sign of what's to come, Chipotle will face an uphill battle. Starbucks, when faced with a mounting labor wave, chose to enact a mix of strategies to keep unionized employees at bay. The company ran a number of collaboration sessions, sent its CEO Howard Schultz to meet one-on-one with employees at unionizing stores, and released an expanded set of benefits with pay increases, seniority pay and increased training opportunities. While it moved forward with "carrot" strategies, Starbucks also had its fair share of "stick" strategies, including constant PR messaging against the notion that Starbucks needs a union, "captive audience meetings," alleged firings of organizing employees, and threats to freeze pay.
Even with new benefits, the more aggressive policies against union organizing have garnered most of the public square's attention, leading to pushback from nearly all stakeholders. Starbucks has received boundless negative press, critique from the White House, bearish attitudes from Wall Street analysts, proactively concerned investors, and NLRB complaints for violations during the organizing process, all while doing little to slow down union energy.
"It's one of those fast food companies that, people like me, don't feel as bad eating at. But when these kinds of violations are revealed, we start to feel bad," said Shaun Richman, Program Director at SUNY Empire State College. "In terms of Chipotle's and Starbucks' ability to outrun this, I'm not sure they can. I'm not sure there's any way to engage in union busting, active union busting…and maintain a positive public profile."
If more Chipotle stores follow suit with unionizing, doubling down on a union avoidance campaign could stir up a similar situation to Starbucks'. Chipotle is going to have to proceed with caution to protect its branding narrative, one that it's carefully curated over the years to be progressive and ahead of the curve in terms of employee benefits and career-building opportunities.
"What makes Chipotle and Starbucks stand out is actually the liberal image that they try to project. The workers at Starbucks themselves identify this as really a point of leverage," Richman said.
Chipotle has done well to provide cutting edge benefits compared to its competition in the fast food space, including debt-free college degree programs, 401(K) retirement plans, PTO even for hourly employees, and more. In her statement, Chipotle's Schalow reiterated the company's various benefit additions over the year to counter the recent union narrative, such as tuition reimbursement, health insurance for part-time employees and quarterly bonuses that totaled $37 million between 100,000 employees.
Jayaraman herself previously admired Chipotle's approach to employee engagement and worker benefits, at least in the context of the larger fast food industry. Her 2016 book, Forked, profiled various companies in the food industry and their approach to employee relations, identifying companies that she believed were taking the high road versus ones that were taking the low road. Back then, Chipotle was one of the ones that stood out to her as most committed to providing for its workers.
"Some of the things that were most impressive were really the mobility, workers starting on the front lines and first day being given a career development journal where they saw themselves and they saw the CEO and the pathway from them to the CEO and how they could get there," she said. "Chipotle had distinguished itself from others, stood out in a crowded competitive market because of these things."
Jayaraman attributes much of this to former co-CEO Monty Moran, an outsider to the QSR industry bringing years of experience working as a lawyer in professional white-collar settings. She saw his presence as "excellent" for the company; while interviewing him for the book, Jayaraman recalls how "crazy" he saw the treatment of QSR employees at-large, implementing sweeping employee-management relation changes. Unfortunately, after his departure in 2016, Jayaraman says the company "moved away from its commitment to investing in its employees."
In the same book, Jayaraman called out Starbucks as a company in her "low road" category for promoting a progressive brand and work environment for employees while reality in-store proved differently. This dynamic of touting an exemplary company culture while employees voice consistent concerns makes companies like Starbucks and Chipotle especially vulnerable to critique.
"The truth in interviewing so many workers was…most workers couldn't qualify for the benefits that they advertised. I interviewed Starbucks workers who are going to food banks to get food because they didn't have enough hours to qualify for enough money or for the benefits that Starbucks proclaimed," said Jayaraman. "I think the same is true unfortunately at Chipotle. They had a good reputation, they had something good, they promoted it, but they didn't keep it."
After Lansing, Should Chipotle Emulate Starbucks or Microsoft?
In terms of outrunning organizing, there's no simple solution for Chipotle. Offering benefits that are better than competitors' is one approach, but once a workforce decides it wants a union, it's hard to put the cat back in the bag and aggressively deter a union while still carrying an employee-friendly brand, especially with pro-union public sentiment at a 57-year high; 68% of US citizens hold favorable views of unions according to Gallup research.
"Starbucks has become a cautionary example for those in the industry," Richman said.
Venkatesh Shankar, Director of Research at Texas A&M's Center for Retailing Studies, agrees that the way Starbucks' unionizing story has developed has "not been in the best interest of Starbucks management." Shankar advises Chipotle to avoid Howard Schultz's classic playbook of union avoidance and instead chart its own path.
"What Chipotle has to learn is to be more proactive, more empathetic, more anticipating, and how to align the interests of the employee's right up front. There are some drawbacks of unionization for many employees, they will be constrained by the contract in terms of communication and negotiations," he said. "But ultimately, it's in the interests of the management and the employees to strike a better relationship moving forward."
Richman has a succinct plan of action for Chipotle: "Be Microsoft, don't be Starbucks."
"Microsoft is trying to buy Activision…and there's a lot of turmoil around workplace bullying, standard sort of issues. Microsoft has basically committed to, has signed, a neutrality agreement with the Communications Workers of America who are seeking to represent those workers," he said.
Not often do you get legacy unions advocating for employees to seek employment from one of Fortune 500's top 20 companies, but with this approach to union engagement with Activision employees, that's exactly the dynamic Microsoft is benefitting from.
"Now you've got a fairly powerful union with a good amount of money its pockets rooting for Microsoft to take over this corporation," Richman said.
Next steps for Chipotle are not clear, especially if one store turns into dozens, but Chipotle is still trying to maintain an air of open dialogue with employees at the Lansing store, even if it fundamentally disagrees with a union presence at the company.
"At Chipotle, our employees are our greatest asset, and we are committed to listening to their needs and continuing to improve upon their workplace experience," Schalow said in her statement. "We continue to believe that working directly together is best for our employees."
While Chipotle prepares for the next phase of this labor wave, Shankar advises the company to not replicate Starbucks' approach and use this opportunity to get out ahead of future organizing by providing real solutions to employees' grievances.
"Not repeating some of their mistakes but rather try to learn from that, be more proactive, and bring these measures into place before unionization threats can become detrimental to their progress as a company," Shankar said.
The Teamsters see this as a catalyzing moment for pushing back against a company sporting $7.5 billion in worldwide revenue in 2021 and helping workers "demand more from a company that can clearly afford it." It's a very real possibility that Lansing won't be the only Chipotle store with eager workers seeking to organize if this energy keeps up.
"The Teamsters Union is home to 1.2 million workers, and all of us are fighting for our brothers and sisters at Chipotle to get the rights and workplace protections they deserve," said Teamsters General President Sean M. O'Brien in the union's official press release. "Now is the time for working people in this country to take back what's theirs. No matter your industry, no matter your age or how intimidating your employer may seem, you too can protect your labor with a union. The revitalization of labor is really just beginning."
Article co-written by Abi Wolf and Daniel Litwin.
Latest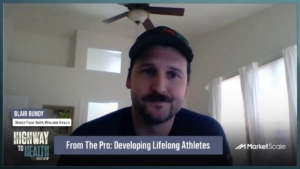 September 20, 2023
Blair Bundy, the Director of Player Health for the Milwaukee Brewers, recently shared his insights on the importance of nurturing lifelong athletes from a young age. He emphasized that the ultimate goal for children participating in sports is not just about winning games but about fostering physical and mental resilience. Such individuals lessen the strain […]
Read More