What Should We Make of Price Increases at Big Fast Food Chains?
Supply chain uncertainty and battles on wages have done a proverbial number on fast food prices. According to recent statistics offered by PriceListo, fast food prices have increased at popular staples like Wendy's, Taco Bell, McDonald's, Burger King, and Chick-fil-A to the tune of 12.9% in the period between September 2021 and October 2022. Yahoo! Finance and Tasting Table, reporting on these same statistics, note that Wendy's customers are particularly affected by a "whopping 35% increase in prices from 2021."
It's important to acknowledge that these are, by and large, marginal increases by the dollar. For example, "the average price for a menu item at Taco Bell sits at $3.37, up 14.6% from last year. At Chick-fil-A, the average price rings in at $4.65, 15.6% higher than a year ago."
So what does this mean for consumers? Beyond slightly increased prices for our favorite quick eats, Barbara Castiglia, Executive Editor at Modern Restaurant Management and Host of The Main Course, dives into the ramifications for these statistics and an intriguing footnote in the data related to price increases at McDonald's.
Barbara's Thoughts:
"Hi, this is Barbara Castiglia of Modern Restaurant Management. We are all well aware of pricing right now but have you wondered just how much prices have changed over the past year? I have some information for you. The price comparison experts have analyzed data from September 2021 to October 2022, where its menu priced data from five of the top fast food chains.
McDonald's, Burger King, Chick-fil-A, Taco Bell, and Wendy's. Some of what they found out is probably going to be a little bit surprising. Overall, the prices have risen by 12.9% across the board. While Wendy's prices increased the most by about 35%. However, the top increase was Burger King's, chicken fries.
You know what this is, showing that obviously nothing that we're surprised about how much of a pricing change there has been over the past year. Something like chicken, which was a commodity that prices went up on. So there's no surprise that it went down the food chain and that fast food became something that the pricing had to go up. They found that the different chains had a different increase in the different meals and what people were paying year over year. For instance, Chick-Fil-A had the second largest price increase of an average of 4.65 for their products which is an increase of 15.6% over 2021.
Taco Bell was third which saw an increase of about 14.6%. Burger King had among the lower increases in prices which the average was about $5.14, which was an increase of 2%. And interestingly enough, McDonald's. Their average price of products in 2022 is $3.77 cents, which is a decrease of 5% from 2021.
So it's interesting that the figure has decreased. What is it that McDonald's is doing that maybe some of the others can learn from? Is it a matter of really being on top of their supply chain? And being able to offer these deals to people also being responsive to their clientele and knowing that everybody is dealing with pricing concerns and if they can hold down that bottom line.
That's where they're going to bring in loyalty and people will keep coming back. After all, they'll buy more because they can afford to buy more. It's some interesting figures and interesting things to see. And it'll be interesting to see as we hit into a new year how pricing is going to change moving forward."
Latest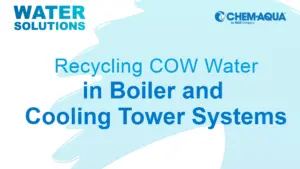 December 7, 2023
For the latest episode of ChemAqua's Water Solutions podcast, the focus was on an innovative approach to water conservation in the dairy industry. The show examined the potential of reusing Condensate of Whey (COW) water, a byproduct of dairy processing, and highlighted some of its economic and environmental benefits. Hosted by Dani Waddell, the informative […]
Read More