Finding Success in Healthcare and Positive Patient Outcomes
Highway to Health podcast host David Kemp sat down with Terry Coutsolioutsos, an experienced Healthcare Commercial Leader to discuss his 30-plus year career in the healthcare industry selling medical devices.
Coutsolioutsos has worked for companies leading healthcare innovation including Pfizer, Boston Scientific, Abbott Vascular, and Siemens Healthineers. The lively and relaxed conversation opened with a discussion of personal health habits and his journey to running daily while highlighting the importance of personal accountability in being healthy. From here the two gentlemen discussed elements of successful individuals.
"What makes really successful people successful is they know what they don't know. They know where their wheelhouse is, they know when they are uncomfortable and they're not afraid to say I don't have a lot of expertise here, I don't have a lot to add or can you help me understand this better," noted Coutsolioutsos.
The insight into knowing what you don't know is one element that has helped Coutsolioutsos be successful. He jokingly but seriously comments on the fact that every day is a new day and he's constantly failing forward and learning. His dedication to the healthcare industry is obvious and his focus is clear. When asked what keeps him in the industry, he sums it up in one word – PURPOSE.
A lot of the work he's been able to do has been transformational in healthcare with a great deal of experience working with cutting-edge medical devices as they were introduced into the medical field.
"You're not just selling something, but actually, it's a really hard thing because you're creating transformation within the healthcare system. You are taking what has been done in the past and bringing new things forward and helping your customers do it less invasively, do it less costly, creating better patient care, better outcomes, shorter lengths of stays – all those sorts of things," said Coutsolioutsos.
Additional topics of conversation included The Challenger Sale book, customer/patient experience, patient outcomes, physician burnout, margins of reimbursement, and much more. Coutsolioutsos' vast experience and engaging insights make this an episode of Highway to Health not to miss.
More Like This Story:
Latest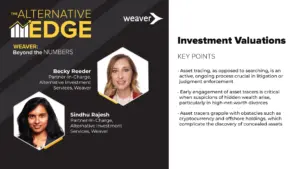 December 4, 2023
In this episode of The Alternative Edge, a Weaver: Beyond the Numbers Podcast, host Becky Reeder, an audit partner and co-leader of the alternative investments practice at Weaver, engages with Sindhu Rajesh, an Alternative Investment Services Partner with Weaver. They unpack the complexities of venture fund valuations, offering critical insights into industry dynamics and best […]
Read More