8 Travel Trends for 2020: Say Yes To Travel
This week, on "Say Yes to Travel," host Sarah Dandashy shares about a recent Forbes article outlining 8 travel trends to expect in 2020. Working in the travel and hospitality industry, Dandashy shares her views as a professional as well as a traveler. Which travel trends will excite you most?
Among the trends discussed, a few are not surprising because they've been developing for the past couple of years. For example, "microcations," which are now dubbed "tiny trips," have been growing in popularity. They are expected to continue to rise as people squeeze travel in long weekends instead of taking a whole week off for vacation.
Other trends that are continuations of recent fads include vegan-friendly options and traveling with pets. Evidence of the pets trend can be seen as some hotel even adopt animals as their mascots to encourage visitors to bring their fluffy companions along.
New trends are also discussed. "Country coupling," for instance, is a term for squeezing two trips into one. Travelers start their trips in one location and then move onto a second one nearby in order to gain multiple experiences conveniently. This is especially popular in Europe, where traveling from country to country is quick. In larger countries, like the United States, "country coupling" may involve visiting two states or cities in one trip.
The rise of train travel, new types of cruise experiences, and "Spartan travel" are also shared in this episode. Tune in to get the details of these trends and share your thoughts.
You can also listen to previous episodes of Say Yes To Travel here.
Latest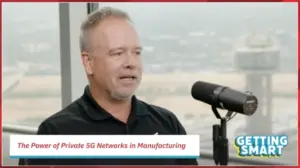 September 25, 2023
The Convergence of 5G and Automation in Manufacturing: A New Industrial Revolution The manufacturing industry stands at an inflection point. Advances in 5G technology and automation are coming together to transform the way products are made, and the role that humans and machines play in this process. Per Treven, Director of Business Development at Ericsson, […]
Read More