How to Identify the Processes You Should Automate for Maximum Efficiency
Automation is a powerful word in a wide range of different industries. It allows companies to make significant improvements to their business processes, software creation, and ease of implementation. Due to its innate value, the automation market is growing at a rapid rate.
Tech leaders Forrester predicted that the automation market size would reach USD 2.9 billion by 2021. Productivity boosts are among the primary reasons for the development of automation tools. Employees can even save time on doing repetitive computer tasks and simple IT duties.
53% of companies have already adopted Robotic Processing Automation (RPA). Based on Deloitte's survey, and many more companies will soon adopt RPA. Companies implementing RPA see an increase in ROI due to improved productivity, reduced costs, and more accurate work. You can observe the benefits of RPA in both manual and digital tasks.
Subjects such as AI and automation may seem daunting to the less technically minded among us. Although, in reality, your business can make the most of automation tools by learning the processes they support. Automation is simply another way to make any given task easier. Determine which processes need automation and you can add both efficiency and value to your company.
In this post, you will learn about RPA, suitable processes for automation, and the steps to take when identifying which processes to automate.
What is Robotic Processing Automation?
Robotic Processing Automation (RPA) is a form of hyper-automation that takes automating processes to the next level. Essentially, RPA is a software technology that allows robots to mimic human actions and behavior. Typically, RPA is used to interact with software and digital systems. RPA is a valuable tool that enables businesses to automate processes without the need for excessive human labor. 
How Does Robotic Process Automation Work?
RPA uses computer software to complete tasks that are generally repetitive and rule-based. This software will handle tasks like data entry, transferring information, and recording data. RPA software can run according to specific schedules and triggered events.
What Processes Are Ideal for Automation?
There are repetitive and mundane duties at every company and organization. These processes take up time and energy that could be better spent elsewhere. The best thing about identifying the ideal environment for automation lies in the fact that automation tools are as diverse as they are flexible. Examples of computing automation may include:
Troubleshooting software

Helpdesk software

Web analytics software

Insight bots, chatbots, and site crawlers
There are also examples of RPA in transport and logistics, the health industry, the HR field, and more. It is important to identify some essential criteria before determining the best automation tools for your company. That way, you'll have a headstart in assessing that your investment in RPA is worthwhile.
Automated Processes Ideal for RPA 
Processes that are suitable for automation are easily recognizable when you look for specific identifiers. Identifiers might look like this:
Tedious and repetitive work

Time-sensitive assignments

Occupations that affect a large number of employees

Error-prone and potentially inaccurate tasks

Roles that involve large volumes of data

Logical and rule-based duties
By following set criteria, it's easier to recognize potential processes that would benefit from automation. 
How to Identify Processes for Automation
Below are some ideas to help you identify processes for automation.
Communicate with Management and Team Leaders
Team members working in leadership positions usually understand a company's problems better than anyone else. It is beneficial to communicate with management and team leaders because they can offer their knowledge and feedback accordingly. Current in-house processes can be evaluated simply by communicating with staff, not only from a management position but also from the ground up. 
As you discuss current processes with managers in your workplace, issues relating to productivity should be of primary concern. Questions such as: what processes are limiting your workforce? Which daily tasks can be improved or automated to boost employee morale and efficiency? Could RPA free up your digital workforce to be assigned other tasks?  
Frame automation questions in productivity, efficiency, and ROI terms. By getting senior staff members on board, you can build momentum in favor of automation for specific tasks. 
Hold Brainstorming Sessions with Team Members
Employees are the people interacting with your processes daily. They complete tasks that enable a company to thrive. As employees engage with a company's workflow, they will recognize unnecessary tasks and issues that slow down their work. This is why collating employee feedback is an essential component to assessing your company's approach to the possible inclusion of RPA. 
Hosting a regular group video conference call is also a very valuable tool for inclusiveness, especially when working within a remote, or partially remote team. Discussing the daily tasks and operations with your team is key to evaluating where RPA can earn its keep. 
Discuss the challenges faced in working and completing every single task. Categorize the team's challenges based on the processes they are tasked to complete and build and maintain team culture around ideas, feedback, and communication.  
Defining Appropriate Processes for RPA
Suitable procedures for automation should always be logical and rule-based. Businesses need to define a process in the most precise way possible before considering how to integrate RPA. This means determining the beginning, middle, and end of every step in your company's operations. Without this, it's incredibly hard to judge what should be automated.
Let's take this back to basics. For example, making tea. First, you boil water, add water to tea in a teacup, and then possibly add milk and sugar. Simple. You can allow the tea to brew for longer, depending on the strength of tea you wish to drink. Companies can define procedures as clearly as making tea a cup of tea, and how RPA could make it a more streamlined process. Using our tea-making analogy, managers can identify unnecessary manual labor that is taking too much time, and hindering productivity.
Determining the Value of Automation
Typically, RPA and AI will reflect a boost in ROI. This improvement can be both monetary and practical. Will automation give your team time to create better ideas? Will automation improve employee morale? Automation should free your staff from menial tasks, allowing them to focus their energies elsewhere.
From another perspective, how does automation affect your ability to gather, manipulate, or enter data? If employees are not manually inputting data, you could lower the possibility of errors and improve the company's performance over time. Identify the best RPA tools and the value automation brings to the company. That way, you can determine areas to implement automation with ease.
Monitoring RPA
Take time to evaluate how your company functions. Do employees follow the process as intended, or do they prefer to work in their own way instead? If employees use designated procedures, you can create process maps that outline the steps of any given role. It is important to understand how each employee works, as it enables you to find areas to optimize through automation in the future.
If you discover employees circumventing traditional procedures, it will be beneficial to define and monitor why they handle their workload in this manner. It is always helpful to improve areas that enable employees to perform better, and faster. If they opt for their individual approach over an official method, there is probably a good reason. 
Automation is available to improve overall productivity. Look into business process mapping and tweak systems according to how your employees complete their tasks and take these evaluations into consideration when making process automation decisions. 
RPA and Digital Marketing
Let's take a look at RPA from a digital marketing perspective. Search Engine Optimization (SEO) is an incredibly time-consuming endeavor. Completing SEO audits, manually researching keywords, and backlink analysis are all areas where RPA can lend a hand. 
Even with the support of RPA, not every SEO process can be fully automated. SEO contains areas that still require the expert manual involvement of a person, usually in content creation within the marketing industry. A digital marketing company may find places to automate SEO for maximum efficiency. The company could automate its SEO analysis and site auditing processes while also still enabling human-computer collaboration. 
The Importance of Documentation
The next step is to gather the key stakeholders related to business process mapping. These could be senior staff, leaders, managers, and subject matter experts. Document your chosen process from beginning to end. Determine which parts of the process can be automated, then invest in RPA tools that will make the best of your chosen process.
Correct process documentation makes it easier to streamline installs and implementation. It also makes your procedures accessible and understandable for all current and future employees. The updated documented process will lead to employees completing tasks in the most efficient way possible. RPA awards employees a happier working environment knowing that they are able to focus on more fulfilling tasks and that time is not wasted. 
Invest in RPA
After analyzing the different activities that your business undertakes, identify the ones to automate for maximum efficiency. Define, monitor, improve, and document each process. Discuss the value of automating the appropriate production areas – both physical or digital – and look for RPA tools that provide the best solutions. 
Both large and small businesses should consider a move to invest in robotic process automation (RPA) because the benefits can be enormous. You can streamline your productivity and improve the quality of work. RPA empowers your business and heightens your staff's morale. Automate the right processes, and everybody wins.
—
Follow us on social media for the latest updates in B2B!
Twitter – @MarketScale
Facebook – facebook.com/marketscale
LinkedIn – linkedin.com/company/marketscale
Latest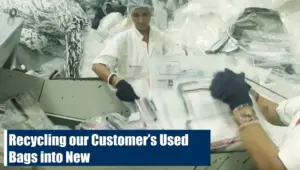 December 6, 2023
This video focuses on EcoLOK4, a groundbreaking product by CONTROLTEK that exemplifies innovation in sustainability. It highlights the process of transforming landfill waste into new deposit bags, with 90% of each bag's material being repurposed trash. This initiative not only reduces waste but also closes the sustainability loop, demonstrating CONTROLTEK's commitment to environmentally friendly […]
Read More