The Weekly Scale: April 26th, 2021
This week at MarketScale, we went live every day, featuring everything from industry leaders like Bose to the future of EdTech. We explored the new trends moving our supply chain, and we dove into the differentiators ready to elevate the physical retail spaces of the future.
It's the start of a new week, and it's time to scale up.
Supply chains and the chaos surrounding them have never been as hot a topic as they are right now.
I sat down with Mr. Supply Chain himself, Daniel Stanton. He detailed how he educates professionals about supply chains and explored the careers now available in an industry squarely in the spotlight.
Chipotle launched its new debt-free tuition program. But what is the ultimate goal for the company as they provide free education to their employees?
The Voice of B2B, Daniel Litwin, talked with Scott Scansen, Head of Total Rewards of Chipotle Mexican Grill, to discuss their new program and how they measured ROI through higher retention and seven times higher promotion rates for these employees.
The U.S. is approaching a 50% vaccination rate, and travel bookings are ramping up. But how are hotel properties attracting and retaining talent?
This week on Say Yes To Travel, Sarah Dandashy sat down with the General Manager of a popular hotel in Austin, Texas to dive into how they are approaching hiring and ensuring they retain their key staff members.
We went live back to back this week!
Voices of eLearning went live with brands like Intel, HP and Panasonic to dive into the digital transformation and the next normal in education.
And we ended the week with a new episode of DisruptED. Hosts Ron Stefanski and Caesar Mickens hosted ASU Digital Prep Managing Director, Julie Young, to explore the three cousins of learning and and what a well-designed virtual learning model looks like.
As more & more retailers across the country refocus on standing out with their physical footprint, experiential installs, from immersive technology to pop-up shops, are becoming a priority. On this week's MarketScale Roundtable, we'll explore how retail's last mile is moving to the city center.
The panel will include:
Steve Hornyak – Fabric
Steven Dennis – Author of Remarkable Retail
Ethan Chernofsky – Placer.AI
Brian McClimans- Peerless-AV
Make sure to follow along for future roundtables. We will also be checking out the future of energy on May 3rd.
I'll be back next Monday for The Weekly Scale but, until then, if you know of a story that you want us to cover, let us know with the hashtag B2BNeverSleeps.
Latest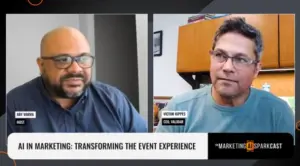 November 28, 2023
AI has been gradually changing the landscape of event technology at a very rapid pace. In an industry where staying ahead of technological trends is crucial, AI's impact on marketing and event management has become increasingly significant. As witnessed in the rise of account-based marketing and enhanced personalization, AI is effectively reshaping how events […]
Read More