The Weekly Scale: March 29th 2021
This week at MarketScale, we took our sweet tooth to new heights, unveiled two of our newest original series, and elevated the debate about which technologies will power the next wave of automation.
Dust off your glove for a new baseball season. It's the start of a new week, and it's time to scale up.
There are two sides to every story, and there are two sides to edge computing – infrastructure edge and a device edge.
This week Amy Leeland, the Edge Computing Director for Retail, Banking, Hospitality and Education at Intel, joined to the edge and beyond to discuss how Intel powers customers' digital transformation journeys with edge compute and bring them closer to the point of where data is being generated.
Deep in the heart of the jazz scene, the saxophones aren't the only things buzzing.
This week, Grant Guillot took Drones in America to the Big Easy to witness what is possible with drone deliveries — right now. The episode went behind the scenes of the first ever drone delivery across the Mississippi and what is even better is that it was beignets from the historic Cafe Du Monde.
Healthcare and education have had their handfuls this past year and to honor that, we have launched two more series
Health Matters with Dr. Jose Medina-Inojosa and Alisa Johnsrud aims to tell the positive stories happening in healthcare. promote health equity by elevating the conversation around healthy habits, preventative health, and relevant public health issues. Every other week the duo will have a  conversation around healthy habits, preventative health, and relevant public health issues and why they matter.
Transforming Education is a moral imperative if we believe that a high-quality education is the birthright of every student.
Each month on DisruptED, hosts Caesar Mickens Jr. and Ron Stefanski will be exploring what a return to normal means for education and how we must bring together a coalition of the willing to advance systemic changes in learning.
Stop. Shop. And drop On the next MarketScale Roundtable, we are exploring crafting a better retail supply chain in the digital age and dig into what the industries biggest logistical road blocks are. Besides being stuck in the Suez canal.
The panel will include:
Ashley Burkle – Impinj
Caila Schwartz – Sales Force
Adrian Thomas – Datascan
Ian Steinberg – Signifi Solutions
Make sure to follow along for future roundtables. We will be deep frying the world of QSR on April 5th
I'll be back next Monday for The Weekly Scale but, until then, if you know of a story that you want us to cover, let us know with the hashtag B2BNeverSleeps.
Latest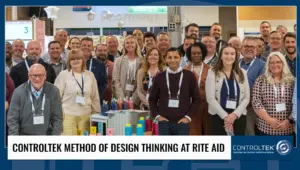 December 4, 2023
The video showcases a dynamic workshop titled "CONTROLTEK Method of Design Thinking at Rite Aid," highlighting the collaborative and innovative efforts between CONTROLTEK and Rite Aid teams. It features scenes of brainstorming, prototype development, and group discussions, emphasizing CONTROLTEK's customer-centric approach to problem-solving and innovation in retail solutions. The workshop demonstrates how cross-functional teams […]
Read More