The Weekly Scale: May 10th, 2021
This week at MarketScale, we'll launch some of our newest contributor podcasts, explore the conversations powering industrialized construction, and analyze the QSR industry's growing need for personalized experiences.
It's the start of a new week, and it's time to scale up.
Why is southern California becoming the hub of green transportation?
On the latest episode of Careers on the Move, a Cargomatic podcast, host Shelby Skrhak spoke to a front-line expert about getting goods from A to B as greenly and efficiently as possible.
There's no denying that the environmental movement has grown exponentially in the last decade. But, unlike other movements, sustainability isn't something we can easily measure or notice a palpable change with.
On the first episode of Breaking New Ground, host Joel Pennington brings together two leaders driving radical change in the built environment today, Arol Wolford and Charlie Cichetti
What is the role of 5G in the future of retail?
This week on Retail Refined, VP of Retail, Restaurants and Hospitality for AT&T Michael Colaneri speaks about how 5G will enable retailers to deploy experiential content, such as "magic mirrors" that empower consumers to try on clothes without being physically present.
Will 5G change the ability for paramedics to communicate with doctors in the hospital?
This week on In The Cloud, Host Hilary Kennedy talked with Dr. Arslan Usman, a telemedicine and wireless connectivity expert to find out.
On this week's MarketScale Roundtable, we're exploring how QSR is personalizing various aspects of its operations, technologies and experience for the end-user.
The panel will include:
Brandon Powers, KPS
Kevin Bessy, Humdinner
Bill Stavrou, Foodhaul
Margine Biswas, Archiphy
Make sure to follow along for future roundtables. We will also be checking out what we can expect for a summer full of travel on the hospitality roundtable on the 17th.
I'll be back next Monday for The Weekly Scale but, until then, if you know of a story that you want us to cover, let us know with the hashtag B2BNeverSleeps.
Follow us on social media for the latest updates in B2B!
Twitter – @MarketScale
Facebook – facebook.com/marketscale
LinkedIn – linkedin.com/company/marketscale
Latest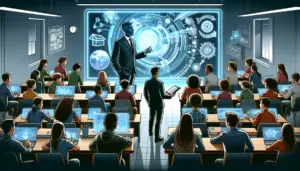 November 27, 2023
In an era where education stands at the crossroads of tradition and innovation, the potential value of thought leadership becomes the guiding star for progress. "Just Thinking" dives into this potential with host Kevin Dougherty and guest Evan Edwards, a Professional Learning Specialist at 806 Technologies who exemplifies the transformative impact of visionary guidance […]
Read More