Why 5G Is the New Backbone of Retail
Designed for retail leaders and lovers alike, Retail Refined explores the in-store technology of the future, challenges the industry's preconceived notions, and brings together retail's biggest names to understand the brand strategies that will define the next decade in retail.
The retail industry's reliance on technology is more apparent than ever. The way people shop, buy, and experience brands have changed dramatically in the next year. What comes next will be powered by 5G. Talking about 5G's mark on retail, Retail Refined host Melissa Gonzalez spoke with Michael Colaneri, VP of Retail, Restaurants, Hospitality for AT&T. Colaneri has decades of experience in retail technology and has over 27 years with AT&T.
Colaneri described his role as supporting the consumer journey in verticals with the right technology solutions. "Delivering a consistent digital experience for brands is top of mind."
So, what's the role of 5G in the future of retail? Colaneri answered, "It's expected to be a communications platform on top of which technology will rise. As consumer digital proficiency grows, demand will expand, and 5G is the infrastructure."
Much of the new consumer life cycle is about speed and clarity, which 5G delivers. Colaneri noted that the pandemic accelerated consumer proficiency. With proficiency came higher expectations and the desire for real-time responses.
Colaneri shared many examples of 5G becoming the backbone for retailers. "Sanitation and cleanliness won't fade, so cashless and touchless transactions are permanent, and 5G makes this more seamless."
Another use case is around "magic mirrors" for apparel where consumers don't have to try on clothing physically. Experiential in stores is another opportunity. "To deploy experiential content, the bandwidth will need to be massive," Colaneri said.
5G is also supporting the supply chain, something that had many disruptions in the last year. "There's a need for diversity, and the supply chain was a bottleneck. Now it has to be flexible with alternate channels for fulfillment and flexing in a dynamic world. It's another case for speed and latency. Constant signal strength for tracking isn't there yet."
Follow us on social media for the latest updates in B2B!
Twitter – @MarketScale
Facebook – facebook.com/marketscale
LinkedIn – linkedin.com/company/marketscale
Latest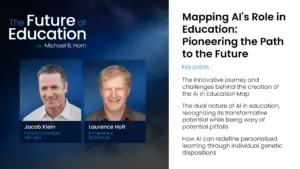 October 2, 2023
Mapping AI's role in education should be a critical step in bringing together innovative technology-based solutions with the expertise of human educators. With rapid advancements in artificial intelligence and an increased reliance on technology-driven educational solutions, the education landscape is on the brink of a significant transformation. AI promises highly personalized learning experiences, efficient administrative […]
Read More