The Weekly Scale: May 17th, 2021
This week at MarketScale, we hosted the first ever Dallas 100 draft, explored the future of last-mile delivery and solved this summer's travel pain points, so you can sit back, relax and sip on your Mai Tai.
Go ahead and get yourself that supersized iced coffee. It's the start of a new week, and it's time to scale up.
With 500 million native Spanish speakers worldwide, we are seeing incredible growth in Spanish content delivery through streaming.
Voice of B2B Daniel Litwin sat down with Mrugesh Desai, Lead for the North American Region for Accedo, to discuss the usage patterns they have seen in Hispanic audiences and how that guides user experience design that helps potential audiences find the content they want.
Last-mile delivery is now essential in the logics space, and a Dallas 100 company wants to shake up the space.
CEO of PickUP Brenda Stoner joined us our in Trinity Studio to discuss how the last mile for smaller parcels is relatively commoditized, while larger product delivery was an unfilled niche.
What's one of the biggest hurdles to scaling drones for delivery and other applications? Managing the sky.
Eyal Zor joins Grant Guillot on Drones in America to discuss how they are approaching utilizing AI to manage and scale unmanned traffic management systems that will help power the future of drone services.
Schools are yearning for multiple modalities, but the pandemic shifted the focus to high-end, high impact learning.
This week on the Voices of eLearning podcast, JW Marshall is joined by the host of Change Starts Here, Dustin Odham, to discuss how he and FranklinCovey are on a mission to create systems that ensure predictable outcomes for students and districts.
The MarketScale Hospitality Roundtable is back and, this time, we're exploring How to Solve Travel's Pain Points for Summer 2021.
The panel will include:
Jacob Wedderburn-Day, Stasher
Jeff Bonaldi, The Explorer's Passage
Ryan Giffen, California State- Long Beach
Jeff Veenhuis, Surfacide
Make sure to follow along for future roundtables. We will also be checking out how the growing demand for shipping and logistics is spurring the next wave of automation on May 24th.
I'll be back next Monday for The Weekly Scale but, until then, if you know of a story that you want us to cover, let us know with the hashtag B2BNeverSleeps.
Follow us on social media for the latest updates in B2B!
Twitter – @MarketScale
Facebook – facebook.com/marketscale
LinkedIn – linkedin.com/company/marketscale
Latest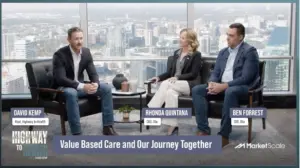 December 7, 2023
As of recent times, the healthcare industry has been progressively shifting towards value-based care, a model that emphasizes patient outcomes over the quantity of services delivered. This transition represents a significant shift that promises to enhance patient experiences and outcomes while controlling healthcare costs. With a growing emphasis on this approach, especially over the […]
Read More