Catapult Solutions Group: Redefining Recruiting
Outside recruiters and recruitment is widely accepted as a valuable resource as candidates enter the job market. Bobby Brill sits down with Michael Boyles, VP of Operations at Catapult Federal Services, and Josh Rainier, Human Resources Administrator of Catapult Solutions Group, to discuss what it takes to build a great recruiter and candidate relationship.
Boyles describes the Catapult approach as "old school meets new school." He explains that while he values technology, the focus should first and always remain on the person and building relationships.
The first is the relationship with the candidate. Recruiters should focus on trust and transparency. Candidates should feel comfortable talking about themselves openly. "Be yourself, be honest with people, tell them up front where the gaps and warts are," said Boyles. Catapult ensures that candidates don't feel like they're just another number in the system. Recruiters lay the foundation of the relationship with their candidates from the jump. "Catapult Solutions focuses on person-to-person contact," said Boyles.
Rainier, who started recruiting but is now working within HR, understands the daunting task of being in the job market. First and foremost, recruiters need to build rapport with candidates. With empathy, recruiters should remember that this person is making a big life decision. "You need to have a certain amount of information [about the position] to make the decision that could impact your next 5 to 10 years," said Rainier.
Trust and transparency are fundamental to the recruiter/candidate and the recruiter/client relationship. "Transparency and trust coincide. Trust is key to any relationship. If you don't have trust, it's really hard to build anything else," said Boyles. From the initial description, it is up to the recruiter to clarify what skills the company needs; understand the absolute 'must haves' and 'nice to haves.' Knowing these elements will clearly define the role. "As a staffing firm, we need to do the right things to make sure we understand the [job] requirements," said Rainier.
Catapult Solutions Group focuses on relationships and the people. These two elements are what remains the core of successful recruiting. To get your resume to a connected Catapult Recruiter, visit their website at catapultsg.com.
Latest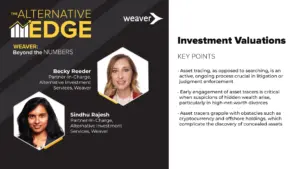 December 4, 2023
In this episode of The Alternative Edge, a Weaver: Beyond the Numbers Podcast, host Becky Reeder, an audit partner and co-leader of the alternative investments practice at Weaver, engages with Sindhu Rajesh, an Alternative Investment Services Partner with Weaver. They unpack the complexities of venture fund valuations, offering critical insights into industry dynamics and best […]
Read More