A Pre Show Perspective from an Infocomm First Timer
Welcome to another episode of Pro AV Today with your host, Ben Thomas! This week, we have a special guest joining us – Izzi Demara from RoomReady. Izzi is a newer voice in the world of professional AV and is about to attend her very first Infocomm show. In this conversation, we'll get a unique pre-show perspective on what it's like to be a first-timer at this major industry event.
Tune in to hear Izzi and Ben discuss:
• The anticipation and excitement leading up to Infocomm, and how Izzi is preparing for her first experience at the event.
• The most intriguing aspects of the show for newcomers, from the latest technology trends to networking opportunities.
• The importance of Infocomm for RoomReady's business and how attending the show helps them stay ahead in the AV industry.
• Tips for making the most of the trade show experience, especially for first-timers.
Want to join us at Infocomm? Click here and register with the code MARKETSCALE for a free exhibits pass.
Latest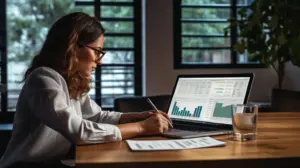 October 4, 2023
The intersection between security and financial acumen often gets overshadowed in a constantly changing economic landscape. While security is essential for safeguarding assets and ensuring continuity, its perceived monetary value is mired in misconceptions affecting company profitability. For many, security is viewed primarily as an expense rather than a potential cost-saver. However, understanding […]
Read More