InfoComm 2021: How Under Armour Uses AV To Keep Employees Connected
Key Points:
Nyere Hollingsworth speaks with Tyler Kern on how Under Armour uses AV
The virtual presence is just as significant as the physical presence of people in the room.
Commentary:
InfoComm 2021 may be AV's big show of the year, but that doesn't mean it's not an attractive time and resource investment for companies outside of the space who leverage AV in their day-to-day operations, their advertising & marketing strategies, or innovative immersive experiences.
One of the "unexpected" companies at the show this year is the athletic wear and sports equipment company Under Armour. Our team at InfoComm had the pleasure of chatting with Nyere Hollingsworth, Lead for Global Real Estate Technology at Under Armour, to better connect the dots with his industry, his company's needs, and AV. To start, we asked Nyere what AV career lessons he learned from the last year of disruptions and how Under Armour uses AV.
Abridged Thoughts:
But in general, you know, both at Under Armour and at my previous organization, it's a lot about trying to make sense of this new world of working and understanding that people are going to be a lot more remote. That remote presence is just as significant as those people in the room and just putting together solutions and services that accept that and make it a reality, and make their organizations continue to thrive in this post-pandemic world. 
We are still trying to figure this out. So we are definitely looking at our technology stack and making sure that it is right-sized for the organization, but also looking at the more human elements of it and the processes and practices and the culture changes that are necessary in order to truly make that hybrid experience work and be meaningful for everybody.
More Stories From InfoComm 2021:
Latest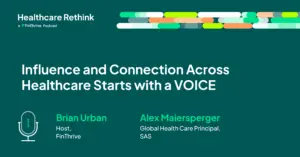 September 29, 2023
In the latest episode of the Healthcare Rethink podcast, presented by FinThrive, host Brian Urban sits down with Alex Maiersperger, the Global Principal Healthcare at SAS. Their conversation charts the role voice plays in influencing and connecting the healthcare industry. Maiersperger, who co-founded the Advancement League, shares his journey from being a healthcare optimist to […]
Read More