Making Virtual System Design a Reality with Ken Brueck of Modus VR
Designing a physical space and imagining what it looks like can be hard, but new technology is making it easier than ever. Pro AV Today host Ben Thomas talked with Ken Brueck, co-founder of Modus VR, a new piece of tech that is leading the way in virtual design.
Brueck says the idea came to him when a friend was helping him install a TV; his friend said to put it on one side, Brueck said to put it on another. While Brueck got what he wanted, he realized his friend had been right; Brueck then realized that this could have been avoided if he could have imagined what his friend was suggesting. "Why hasn't software solved this problem and why does he not have better tools for communicating his vision?"
Brueck explains that Modus VR allows designers and clients to experience the theoretical physical space in a virtual one. It also saves time and money on 3D renders that will likely be discarded. "Traditional renders take so long to create," says Brueck. "Because that cost of change is so high, you're gonna push back…as far back in the process as you can to bring in renders, if you bring them in at all, because you just can't afford to do twenty revisions, you just don't have the time."
Brueck goes on to describe the pros of his tech. "Modus is meant to be so fast that you can do all these changes in real time with the clients participating and it changes the entire discussion." It's tech that can make it easier for all sorts of clients and designers to better realize their visions for a physical space.
Latest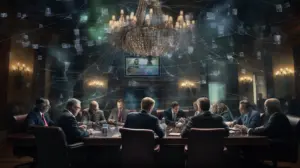 October 3, 2023
In August 2023, the National Institute of Standards of Technology (NIST) put out a request for comments on the Preliminary Update from the Internet of Things Federal Working Group (IoTFWG), which aims to provide the nation direction on how to improve IoT adoption and expand its use cases for the future of industrial, corporate, […]
Read More