Zuzor and Orbbec Partner to Enable Easy and Experiential AV Installs
Zuzor, a software company combining AI, machine Vision, and Multimedia, and Orbbec, one of the world's largest 3D camera manufacturers, announce today a partnership to provide premium Experiential Media solution to the audiovisual industry.
Orbbec Astra's 3D cameras based on structured light technology work with Zuzor to offer experiential software that enable quick customized experiential media installation on any display technology with remote authoring and management capabilities. You can see it for yourself at https://youtu.be/F2ZamTJ58Ys
"As displays become more intelligent, more interactive and more experiential, we are excited to partner with Orbbec to combine their revolutionary hardware and our revolutionary software to enable new experiences and new human connections at a scale never seen before." said Tammuz Dubnov, founder of Zuzor.
"We are happy to collaborate with Zuzor. With our Astra 3D cameras and Zuzor's fantastic software for "Experiential Environments", clients are provided an easy-to-use package which offers a high quality, fully immersive interactive content. This Solution helps retailers encourage repeated visits, boost social media exposure, generate sales revenue, and further reinforce a brand's message." said Agnes Zheng, Director of Sales, Orbbec.
 About Zuzor
Zuzor is combining AI, Machine Vision, and Multimedia to bring you Experiential-Media. Zuzor empowers AudioVisual professionals, designers, and creatives to bring interactive motion-generated content to a range of industries. The movement-activated technology immerses users in a world of their own making, changing how brands connect to the audience and leaving an impact they will never forget. Zuzor offers a software and platform solution easily enabling any display to support experiential media to create Experiential Engagement.
About Orbbec
Orbbec is a global leading 3D sensor camera provider that supplies Fortune 500 enterprises with technology to meet user needs while revolutionizing the importance and use of 3D cameras in everyday life. Astra 3D sensors can adapt to diverse application scenarios and can be widely used in television, mobile phones, robots, VR/AR, etc.
—
Follow MarketScale on social media for the latest updates in B2B!
Twitter – @MarketScale
Facebook – facebook.com/marketscale
LinkedIn – linkedin.com/company/marketscale
Latest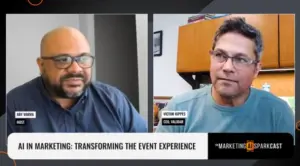 November 28, 2023
AI has been gradually changing the landscape of event technology at a very rapid pace. In an industry where staying ahead of technological trends is crucial, AI's impact on marketing and event management has become increasingly significant. As witnessed in the rise of account-based marketing and enhanced personalization, AI is effectively reshaping how events […]
Read More