The Intersection with Bluewater: Next Level Retail After the "Amazon Effect"
On today's episode of The Intersection, we discussed the "Amazon effect," how it's impacting the rest of the retail world, why some are scared, and why most should be excited, with guest Eric Thompson, Senior Sales Executive at Bluewater. In a world of emerging technology, retailers now have options.
"There is renewed optimism for brick-and-mortar stores even in the world of the 'Amazon effect," which really started in 2018 with the Amazon Go Store in Seattle. It was revolutionary, creating a frictionless experience for the shopper," Thompson said. "This seamless customer experience is what every retailer is striving for, and it's one where when technology is integrated well, shoppers don't notice it as a disruption."
One area where that's a real challenge, and where technology can help, is queuing. Thompson shared these shocking facts:
Customer spend about 118 hours a year in a checkout line
86% of shoppers avoid going to stores with long lines
"Retailers have to address this and take the experience to the next level and make it positive," Thompson said.
When retailers come to the point where they need to make a change, though, some are hesitant.
"Some that have been business in a long time are slow to evolve. But over 30 retailers filed for bankruptcy in the last two years. So, we see brands going in different directions," Thompson said.
"Take Nordstrom and Lord & Taylor, similar stores with the same customer base. Lord & Taylor is on the verge of bankruptcy. Nordstrom, however, has embraced tech in its stores and is doing quite well. Retailers have to understand their customer base, as there is a transition for new generations who are digital natives. They expect technology in their experiences."
Another unique example of technology in stores is using a brand's app in-store to learn more about a product. "In some retail experiences, shoppers can walk in and scan an item with the app to learn more about it and the company," Thompson said.
As retailers embrace tech changes that impact the flow and operation of their stores, it opens the door for other integrations that have more visual appeal for customers while still improving their in-store experience. Thompson pointed to one example, 3-D mapping on mannequins, as a perfect representation of technology that captures the attention and provides useful information at the same time.
"This is being tested at the Lululemon store in San Jose. A customer walks in and sees an item on a mannequin, and each part of the item is highlighted. They could take this a step further with the brand's app, and if it knew you were there, it could point out specific items of interest to you," Thompson said.
For the latest news, videos, and podcasts in the Retail Industry, be sure to subscribe to our industry publication.
Follow us on social media for the latest updates in B2B!
Twitter – @RetailMKSL
Facebook – facebook.com/marketscale
LinkedIn – linkedin.com/company/marketscale
Latest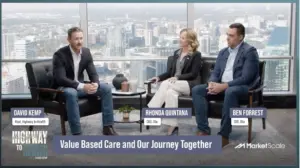 December 7, 2023
As of recent times, the healthcare industry has been progressively shifting towards value-based care, a model that emphasizes patient outcomes over the quantity of services delivered. This transition represents a significant shift that promises to enhance patient experiences and outcomes while controlling healthcare costs. With a growing emphasis on this approach, especially over the […]
Read More