Can Retailers Keep Consumer Holiday Shopping at Record Highs?

Consumers are spending record amounts during this holiday season as seen on the 2022 Black Friday and Cyber Monday. Not only was it a record weekend of sales for Cyber Monday and Black Friday revenue, but the wealth was shared across multiple platforms. Shopify merchants set their own holiday sales records with $7.5 billion in sales over the holiday weekend, and Amazon took full advantage of consumer holiday shopping trends to log its biggest Black Friday weekend ever.
The omnichannel consumer is clearly winning big this season, and there's an eagerness to hit the store, whether digital or physical. Of course, retailers would love for Thanksgiving weekend sales trends to continue throughout the rest of this year into the New Year, but a big weekend of positive consumer holiday shopping trends are far from a guaranteed new normal. As sales numbers likely settle, retailers may need to provide further discounts through the end of the year to keep consumers shopping if the revenue drops below comfort levels.
Bryan Eisenberg, retail experts and partner at Buyer Legends, provides some insight on the ways he would like retailers to respond to consumer holiday shopping trends in order to encourage a virtuous cycle of loyal customers.
Bryan's Thoughts
"Black Friday and Cyber Monday showed that consumers were really excited about getting great deals this holiday season. Spending was higher than ever, which shows some encouragement for the marketplace. However, all I've been hearing from a lot of retailer friends is that there were a lot of smalls bought this year as well. People aren't necessarily buying big items, but they're definitely looking for those deals.
So retailers are gonna have to think really hard whether people are gonna keep spending a ton of money over the rest of this quarter or are they gonna constantly be looking for the next deal, and so will they have to discount heavily to get through inventory this holiday season?
The other big one, and I'm hoping we see a lot more of next year, is just retailers leveraging their in-store to drive people to Cyber Monday, because Cyber Monday has become one of the biggest days of the weekend. And so imagine being able to get exclusive deals because you've showed up in store, got a particular code or QR code or something like that, and that enabled you to get more on the online stuff on Cyber Monday.
So I think when they start looking at this, at the end of the holiday season, we will see exactly where consumers stand. But I expect it to be flat still, people looking for deals, not a lot of high margin for retailers."
Latest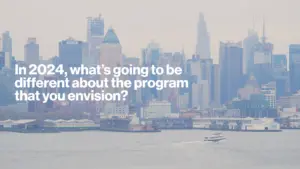 December 1, 2023
In the dynamic telecommunications landscape, Verizon's Partner Network continues to evolve, adapting to new trends and opportunities. For another segment featuring Mark Tina, VP of Indirect Channel Distribution and Channel Chief at Verizon Business Group, he explores exactly what types of significant changes and advancements the Verizon Partner Network will see in 2024. In this […]
Read More