Black Friday 2022 In-Review: How Did Supply Chain Challenges and Consumer Pessimism Turn into Record Sales?
Black Friday 2022 and its cousin Cyber Monday are now behind us, and boy did they both make waves across retail.
Not only did Black Friday's in-store foot traffic break records according to NRF, but sales numbers seem to show that Black Friday 2022 and Cyber Monday 2022 sales are setting records, with Cyber Monday becoming the biggest day of online sales in U.S. history. Leading up to retail's big weekend, though, not everyone was confident. Quarterly earnings showed persistent supply chain challenges, sales numbers, inflation challenges, and even in-store crime issues plaguing the industry.
So what gives? How did Black Friday play out? What did the lead up to these record numbers look like, and what are analysts saying about the most important takeaways from a massive win of a weekend for ecommerce? Let's trace the timeline, the main industry trends and the points of conversation that shaped Black Friday with a Black Friday 2022 In-Review.
2022 Retail Sales Numbers Gave Mixed Indicators
Coming into the month of November, retail sales were all over the map. They dipped dramatically, then rose enough to get retailers excited, then dipped again. Total whiplash. High inflation rates and concern for the economy kept consumers cutting back on their purchases. But as the holiday season approached, retail sales numbers looked to be increasing again. All this uncertainty was hard to maneuver for retailers and analysts; Lesley Hensell of Riverbend Consulting, pooled insights from different sources to try to get a more accurate read of what was to come in the kickoff of the holiday shopping season.
"Retail sales have been on a wild ride the last few months. They were down in August, down in September. Then a little bit of an uptick in October got some analysts excited. Unfortunately, I don't see a lot of reason for excitement just now. In October, I think a lot of folks had delayed purchases for a really long time. For example, in automotive, for new vehicles, when they saw those prices drop a little bit in October, they jumped and took advantage to replace that car that really needed replacing. A lot of things were replaced in Florida for people hit hard by the hurricane, buying soft goods and furniture and housewares. Also, there's been some early demand for Christmas items, holiday items, and gifts, stimulated by Amazon and other online and brick and mortar stores who are really trying to push demand early. So, while it was a really great October compared to the prior years, I really think we're gonna see some pairing back continue to happen this holiday season." – Lesley Hensell, Co-Founder, Riverbend Consulting
Quarterly Earnings Gave Warnings on Retail Crime
October and early November were also the era of quarterly earnings reports, which further highlighted a lot of that sales instability in retail. Major retailer Target underperformed considerably, missing quarterly expectations with a profit margin of 3.9%, lower than its 5.35% estimates. But a major portion of the blame for low revenue was placed on retail thieves. Apparently, "inventory shrinkage," which is a nice way of putting shoplifted product, was one of the main factors that contributed to a poor quarterly performance for Target, as retail thieves slashed Target's gross profit margin by $400 million compared to 2021's same-quarter numbers. This naturally caused some stress leading into the Black Friday weekend. Was this a trend that was going to persist? Our retail experts were mixed on the appropriate kind of change needed to make a difference on inventory shrinkage.
"One of the reasons why Target is targeted this time is because Target has a lot of inventory, excess inventory, and it's trying to clear that. And so maybe the retail thieves see it as an opportunity to attack them at this point in time. However, the best ways in which Target and other retailers can combat this crime is to be well-prepared, having good security measures, collaborate among the other retailers, get law enforcements in order and be very vigilant. This is something that the retail industry has to collectively solve because it's increasing at about 25% a year." – Venkatesh Shankar, Director of Research, Texas A&M Center for Retailing Studies

"Legislation is an important first step and Target called that out in their earnings report because the fact is legislation hasn't caught up with retail realities. You know, old-school pawn shops require all kinds of paperwork and tracking but the same doesn't hold true for the online marketplaces where a lot of these stolen goods are fenced. And theft gets generally treated as a misdemeanor, even if it's perpetrated across hundreds of stores. So legislation is one leg of the stool. The other leg is technology. Now the good news is a lot of surveillance and tracking technology that retailers have access to has gotten really sophisticated. But it's not cheap, so legislators are gonna have to catch up with the times, and retailers are gonna have to start shelling out for better technology and for more store help if they really wanna put a dent in the problem." – Carol Spieckerman, President, Spieckerman Retail
Black Friday 2022 Tests the Retail Supply Chain
Leading into Black Friday, retail supply chains were also under the microscope. After months of delays, disruptions and price increases, major retailers like Walmart, Sam's Club and Target all claimed their inventories were primed to meet peak demand. That was obviously encouraging to hear, but some of our experts, like Leigh Chesley at Longbow Advantage, reminded retailers that warehouses need to be cognizant of changing dynamics around peak demand. If anything, it seems that retailers adjusting to supply chain disruptions throughout the year put them in a position to take on holiday peak, while also acknowledging that peak isn't seasonal anymore.
"What we're finding is that peak has almost become a year round thing. So whereas before people were really putting a lot of inventory into their warehouses leading up to peak, we're finding that warehouses are actually much more utilized from a percentage perspective year-round as opposed to just at peak. What we're also seeing on the retail side is that inflation is really starting to impact how consumers are making purchasing decision. So whereas people may have had larger budgets in the past, they might be pulling back on their spending for this year, or they're making different spending decisions where they might have bought a more premium item, they're looking for something a little bit different.

So that's where we're seeing a lot of warehousing, where folks are, again, bringing that inventory up because while what may have been anticipated or expected in the past, even as folks were looking at planning a few months ago, they're starting to see that consumers are still spending, they're just spending differently. And so they need to be prepared for the shifts that are happening within the consumer base, really at a real time speed so that they can adjust and make sure that they're getting the right things either on the shelves or in the mail direct to consumers as well." – Leigh Chesley, CCO, Longbow Advantage
Black Friday 2022 Sets Multiple Sales Records
So, now we look at the results from Black Friday. In the lead up, consumers were feeling much more hesitant to hit the store thanks to inflation impacting consumer confidence. This had analysts nervous about whether Black Friday would be dampened by an ecosystem discouraging discretionary spending.
And yet, Black Friday weekend saw record sales and foot traffic. How can we explain this paradox? Host of "What Just Happened," Christine Russo, gives her take: this consumer confidence phenomena is largely explained by a return to old habits.
"Customers are going back to stores anyway, regardless. The foot traffic has been rising, online shopping has been going down, shipping costs for online shopping is not really a factor, but there's a return to old habits, I would say, of people getting back into stores. And that has really affected online e-com numbers since Q2 of 2022. I think the customer is spending later than usual this year. I would not refer to this holiday season as one that could be expected to end in a slump. I think that it will probably be flat, but some say flat is the new up, certainly in 2022. We are seeing a lot of pre-pandemic numbers come back in. There's like a normalization to sort of wipe out the activity that occurred during 2020 and 2021 because of the liquidity of the customer. So everyone's kind of, the industry is going back to using 2019 numbers as the benchmark, and I think that in the end we're going to see an unchanged or equal end result." -Christine Russo, Host, "What Just Happened"
Let's break down these record Black Friday 2022 numbers. How good were they really? Well…
Black Friday online sales topped $9.2 billion this year, a record breaker, according to Adobe Analytics
The firm measured Cyber Monday sales too, and found they crossed last year's record with $11.3 billion, now the biggest U.S. online shopping day in history
NRF numbers show a record number of shoppers, nearly 200 million, hit brick and mortar stores for the big holiday shopping weekend, meaning folks are ready to go in-stores again
With records on records, what are analysts saying are the biggest implications from this overall Black Friday? Here are their hottest takes:
Paul Sproles, Ocean Spray
"Holiday sales for 2022 are starting to roll in and Black Friday, Small Business Saturday, Cyber Monday, all experiencing huge growth, anywhere from 12% to 14%. Thr National Retail Federation has indicated we've seen increase in total dollar sales. An exciting number coming out is a 17% increase in foot traffic. That's not something that was expected. We had three to four weeks of lead up to Black Friday where retail America was working extremely hard marketing sales pre-Black Friday. There was an expectation of lower foot traffic. However, 17% is an extremely strong number.

The American goods consumer is resilient with getting out to the stores and finding deals. Those deals were extremely high. This is something that has not been seen recently, and there is obviously a concern that could be setting a new precedent. 20% is no longer viewed as a huge benefit to consumers, so we'll see how that works out in the long run. For me, the big winner in this holiday was Walmart, not just from a pure sales standpoint and the foot traffic, but I think that being the number one online search for holiday sales is incredible for Walmart. That is something that has been in Amazon's purview for many years now. Walmart did take over the number one spot, and I think that is something that will push them as continue to invest their capital into digital, BOPIS…" –Paul Sproles, Director of Category Insights & Analytics, Ocean Spray
James Prebil, "Point of Scale"
"The big takeaway for me for what we saw in retail outlets from Black Friday and from Cyber Monday results are that we are seeing the true maturity of the omnichannel aware consumer. And so what do I mean by that? What I mean is that, through shopping behaviors that were sped up by the necessities of the pandemic and doing the majority of shopping online, consumers are now well educated and aware that they can find deals that are just as good or sometimes even superior to in-store, brick and mortar deals in the holiday buying season, in an e-com environment. They can go on and at their leisure when they want, not necessarily just on one day needing to physically go wait outside and long lines in a store, they can find those deals that meet their shopping needs throughout the holiday season.

And I think we're going to see not only this trend continue of there being a more even brick and mortar to e-com split in spending over the holiday season, but we're also gonna see that holiday season get stretched out over a longer period of time, rather than being so specifically concentrated around Black Friday." –James Prebil, Host, "Point of Scale"
Lisa Miller, Lisa W Miller & Associates
"Online sales were up to $9 billion, and that was up actually two points versus the prior year. So there's definitely joy in the air this holiday season as consumers are trying to get back to some sort of normalcy. So when you say who's the winner this holiday season, who are the winners and losers? I think the consumer is the winner this year, and the reason is that the opportunity to get back out shopping is such a fun holiday tradition for many consumers. The inventory levels are better. The shipping concerns from last year are definitely seeming to be resolved. So at the end of the day, I think the consumer is the winner and we could all use a little bit of joy in our lives this year." –Lisa Miller, President, Lisa W Miller & Associates
Christine Russo, "What Just Happened"
"The industry reacted with a bit of surprise at the success of Black Friday, Cyber Monday. Retailers had been indicating that inventory levels would be a problem going into this timeframe. As we can see now, volumes were higher than expected, so retailers really need to rely on omnichannel forecast planning so that those inventory levels are never really off as far as they first indicated. That will lead to better margins in the end." -Christine Russo, Host, "What Just Happened"
And that's Black Friday 2022 In-Review, but holiday shopping is just getting started. Christmas shopping continues through the next month, so we'll be sure to keep our ear to the ground for how holiday retail sales numbers develop. Maybe there'll be some new records to break through December.
Latest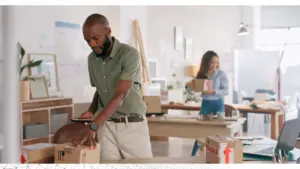 November 29, 2023
While the logistics industry often gravitates toward cutting-edge technology, Wesley Boyce, an Assistant Professor of Practice in Supply Chain Management and Analytics at the University of Nebraska-Lincoln, brings to light the enduring significance of radio communication. In a world enthralled by digital innovation, he argues that the simplicity of radios could be their greatest […]
Read More