DTC Brands Struggle to Adapt With 2023 Consumers: Brand Trust and Flexibility is Necessary

Selling directly to the consumer buying your products can be incredibly profitable for a business, so why don't all businesses sell directly to consumers? The simple answer is that there are many risks and challenges that come with running a direct-to-consumer (DTC) business, and the risks do not always pay off.
The success of DTC brands comes from their ability to adapt to the current economic environment and build their business to flourish in an ever-changing market of high competition. The biggest thing for DTC retailers to remember is that because they are selling directly to the customer, everything must be done with the intention of the customer in mind. For example, in today's economy, many consumers are using buy now pay later (BNPL) options for purchases and looking for omnichannel options across platforms. Along with the way they make purchases, consumers are looking for the right prices and quick delivery.
Consumers want shopping and purchasing flexibility with a trustworthy brand to fit into their busy lives, and DTC retailers need to be able to adapt and provide that promised flexibility to their consumers for a better customer experience. There are many ways for DTC brands to adapt to the current market, but the biggest way is to provide options for their customers. When products are sold, they should have multiple compatible purchase channels that provide helpful solutions like BNPL platform partnerships.
DTC brands with a solid product and market can succeed by remembering their customers, telling their stories, and changing with the economy and its consumers instead of fighting the changes. For customers, it is all about the best product for the best price with the best purchase experience.
Marketing Manager Brian Hawkins, from GhostBed, shares his thoughts on the necessary changes DTC businesses need to make to adapt and survive in the current shifting market.
Brian's Thoughts

"Hi, this is Brian, the Marketing Manager for GhostBed, a leading DTC brand in the mattress and bedding space. What we're seeing here in 2023 is a shift in the market. You're seeing customer behavior pushing more into financing, buy now, pay later for 0%, paying those needed purchases over time.
As well as a heavy market on sales and price point. So, we're shifting to be able to work with an omnichannel presence across different channels that come up with new products that meet the price demand of consumers, whether that be on Amazon or other platforms, as well as pushing with retail partners to be able to drive foot traffic and work with partners through our GhostBedretail.com.
So, the shift is definitely changing. You just need to adapt. Make sure you're not competing against yourself. Find the right products, the right solution, at the right price to be able to deliver; now that supply chain issues have passed, and you can be able to deliver a product to a consumer that is pretty demanding and wants to be able to have a quick turnaround for that product."
Article written by Gabrielle Bar
Latest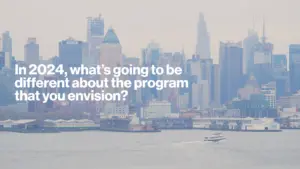 December 1, 2023
In the dynamic telecommunications landscape, Verizon's Partner Network continues to evolve, adapting to new trends and opportunities. For another segment featuring Mark Tina, VP of Indirect Channel Distribution and Channel Chief at Verizon Business Group, he explores exactly what types of significant changes and advancements the Verizon Partner Network will see in 2024. In this […]
Read More