Exploring Buying into Better with Deloitte's Anthony Waelter
Consumers have multiple choices in spending their dollars, and today's consumers invest in companies and brands that align with their values and needs. Buying into Better™ is more than a concept or a trend; it's the way of the present in how consumers channel their purchasing behavior.
Brands don't get judged on their quality alone. Consumers want to know that the organizations behind these brands are making strides in meaningful sustainability in both environmental and social governance.
Deloitte recently released a report on Buying into Better that looks into the future of the consumer industry. What Just Happened? host Christine Russo got an insider's walkthrough of the report from Deloitte's Vice Chair and U.S. Consumer Industry Leader, Anthony Waelter. Waelter told Russo that Buying into Better is a journey everyone is on, consumers and consumer companies alike.
"Reflecting over the past few years what organizations were focused on and what consumers were demanding, we recognized that we're all moving toward a more utopian future despite all the dystopian impacts that are out there today," Waelter said. "And when you think about it, consumers are using their dollars more and more to effect the change they want to see in the world, and they're speaking with their wallets and demanding more reliable, safe, convenient, sustainable, socially just, and personalized goods and services."
Russo and Waelter's conversation on Buying into Better includes:
The importance of change, expecting change, and building change into corporate and brand strategies
Aligning personal values with purchasing consumer products
Breaking down the three M's: models, mechanics, and markets, and how they interact with consumers and brands, selling and communicating
Understanding generational change from the enterprise-level leadership
"What we want people to get from the body of work is an understanding that what's worked for the last forty years is not going to work in the future," Waelter said. "We talk about things like reconfiguring supply chains in production to meet the demands of the consumer. We talk about things like massive shifts from one type of product that's more of a tangible, durable good to a digital good and service. These require dramatically different skill sets in an organization."
About Anthony
Anthony Waelter, as Vice Chair and US Consumer Industry Leader for Deloitte LLP, leads the overall strategic direction for its industry practice, including audit, consulting, tax, and advisory services. Waelter has nearly 30 years of experience providing financial, operational, and information systems advisory and assurance services to U.S. and global clients in the consumer products, manufacturing, chemicals, retail & distribution, and transportation, hospitality and services sectors.
Before his consumer industry role, Waelter led Deloitte's Controllership Services practice and continues to serve as a member of its U.S. Finance Transformation leadership team. Waelter holds a Bachelor of Arts in Finance and Accounting from the University of South Florida.
Latest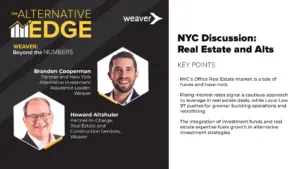 December 5, 2023
Explore the evolving landscape of New York City's real estate and alternative investments with Brandon Cooperman and Howard Altshuler in this insightful episode of Weaver: The Alternative Edge. Dive into the current trends, market forecasts, and strategic growth in the real estate sector. Key Points: NYC's Office Real Estate market is a tale of haves […]
Read More