FindMine: How Personalization Effects Brands

Over 89% of digital businesses are now investing in personalization marketing tactics. An individualized approach is said to hook the consumer, invite more interaction, and help boost sales. But investing in an individualized campaign is costly and it might not be all it's made up to be. How should companies invest in their future without paying too much and losing their brand image in the process?
In this episode of "What Just Happened?" host Christine Russo invites guest Michelle Bacharach, CEO of FindMine to chat about brand personalization.
Contrary to many thought leaders of today, Bacharach believes personalization is a huge risk, one that can bankrupt a business. On one hand, personalization investment is increasing, but on the other, it is diminishing brand and editorial vision – which is arguably the one thing brands have that stands apart from giant retailers like Amazon.
"One of the reasons I started this business was that I believe that personalization can literally bankrupt businesses," outlined Bacharach.
Russo and Bacharach discuss…
● The high-risk, low reward of buying into an individualized personalization market
● How brand differentiation rewards the consumer and the business
● Why FindMine implements a different approach to brand personalization while staying true to a scaled-out editorial vision for each company
"…what FindMine does is we're a content-engine. We amplify the amount of editorial and inspirational content that's available, sometimes by, you know, 10,000x what you have, and so if you can take that little nugget of…five assets that your marketing team feels great about and splice it and dice it and make it into a whole bunch of different flavors and varieties that are still on brand…but are different enough and dynamic enough to be appropriate for each of those people…you get a one-to-one story that's possible…," said Bacharach.
Bacharach has been the CEO of FindMine for over six years. She earned her BA in Interdisciplinary Studies from the University of California, Berkeley and her MBA from NYU's Stern School of Business.
Latest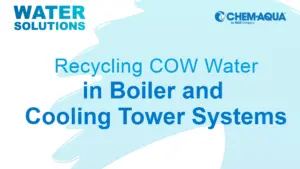 December 7, 2023
For the latest episode of ChemAqua's Water Solutions podcast, the focus was on an innovative approach to water conservation in the dairy industry. The show examined the potential of reusing Condensate of Whey (COW) water, a byproduct of dairy processing, and highlighted some of its economic and environmental benefits. Hosted by Dani Waddell, the informative […]
Read More