How AI & AR Try-On Technology is Impacting All Shopping Channels
AI & AR (augmented reality) Try-On technology makes shopping for fashion, beauty, and skin care products fun. Leading the charge in this AI & AR space is Wayne Liu, Chief Growth Officer, and President of Perfect Corp. For the past several years, Perfect Corp has stood as an industry leader in AI & AR for the beauty, skincare, and fashion space, and the technology keeps pushing boundaries.
Before AR, a person could only try makeup by going to the store and putting on a sample. "That's why virtual try-on is really the one people can use," Liu said of the technology's growth over the past decade. And what was a fun way to try out a virtual look on one's phone from home became a necessity to sell such products during the pandemic when shopping in-store wasn't always available to shoppers.
Customers enjoyed Perfect Corp's makeup solutions so much that they soon asked for AR solutions for hair and skin care. "And with skin care, the approach is different because it's not really 'try on,'" Liu said. "It's more diagnostic. So, that's where we started using AI, vision intelligence, and machine learning to learn how your skin looks and make recommendations." Perfect Corp partners with its major skin care customers to tap into their expertise, better understand the skin and perfect the AI learnings.
Because many makeup and skincare companies also offer fashion accessories, Perfect Corp began offering fashion tech in the past year. When a customer gives Liu and his team a challenge, their response is, 'challenge accepted.'
Liu said Perfect Corp offers their technology as a software as a service model, and its licensed technology is customizable. "So, even if two companies license the same technology when they present this to their customers, their customers see different things. They (the customer) can customize the UI and UX on top of our technology."
Latest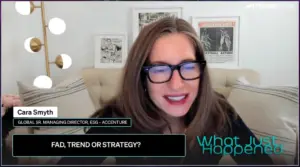 November 30, 2023
The world is in an era where sustainability and responsible retail business practices are increasingly crucial. For the latest episode of "What Just Happened," host Christine Russo further explored the hows and whys of this pressing issue by interviewing Cara Smyth, Global Senior Managing Director for ESG and Responsible Retail at Accenture, and Chair […]
Read More