How Robotics Are Creating Synergy Between Employees and Technology
Phil Duffy, Vice President, Product, Program and UX Design for Brain Corp, joined host Daniel Litwin to tackle a broad, yet critical topic in today's automated world – how robotics are building new bridges between employees and technology.
Brain Corp builds the software for autonomous mobile robots, or AMRS, used by retailers and grocery stores across the world and counts several Fortune 500 customers among its client base, including Walmart, Kroger, Giant Eagle, Schnucks and Simon Property Group.
Duffy provided some key insights from the front lines regarding how those customers and others are leveraging AMRs during the pandemic, how the rapidly growing of adoption of robotic solutions could continue into the new normal and beyond, and the impact of robotics on day-to-day operations during COVID and into global reopening.
"We've known about robots in warehouses and industrial settings for 20-odd years, but the robots that scale in open-to-public spaces … are a fairly new thing," Duffy said. "Up until recently, customers have been nervous about the prospect of robots in open spaces. What's really happened during COVID is that a lot of the customers we deal with in the robotics industry have recognized that there's an opportunity here to gain value."
Essentially, that translates to robots taking over dull and monotonous jobs, allowing human employees to take on cleaning and other critical tasks during this uncertain period.
Follow us on social media for the latest updates in B2B!
Twitter – @MarketScale
Facebook – facebook.com/marketscale
LinkedIn – linkedin.com/company/marketscale
Latest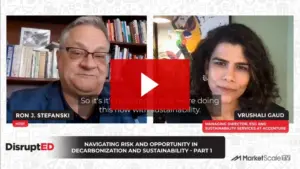 September 26, 2023
The global conversation has shifted dramatically towards decarbonization and sustainability in recent years. With the world experiencing unprecedented levels of disruption, from 5G technology to the challenges of a pandemic, the urgency to address climate change and its implications has never been more palpable. Although most business leaders see the vision of Sustainable Development […]
Read More