How To Solve The Online Conversion Arithmetic
Designed for retail leaders and lovers alike, Retail Refined explores the in-store technology of the future, challenges the industry's preconceived notions, and brings together retail's biggest names to understand the brand strategies that will define the next decade in retail.
Connecting consumers to products they want to buy can sometimes be a complicated venture. Converting a shopper to a paid customer can be challenging, especially in an online environment.
On this episode of Retail Refined, Host Melissa Gonzalez talked with Nilay Oza, the CEO and Co-Founder of Klevu, a powerful and extensible eCommerce search solution that delivers search results based on shopper intentions and behavior in real-time. They dug into online retail conversion rates, Klevu, and how Oza's passion is to make a difference through continuous learning with software-driven innovation.
"We exist to democratize the discovery part of the retail experience." – Nilay Oza
As a shopper, when you visit an online store, there is a process. A customer enters the store with the intent of purchasing a product. During this journey, they have a lot of different options. One way to improve this experience is to bring the most relevant things to the front and influence the shopper. This is the power of an online store, specifically one armed with Klevu's AI and merchandise-friendly controls.
"It is a fact that most retailers have a 3-5 percent site conversion," Oza said. "It means over 90 visits are not resulting in any transaction."
It is often underestimated how low the conversion rate is for online retailers. But, for some online retailers, such as Amazon, their conversion rates are often significantly higher. For Prime customers, the conversion rate is 74 percent, while non-Prime customers are around 10-15 percent. The goal of Klevu is to bridge this gap between online retailers and retail giants, such as Amazon.
Listen to hear more about how Klevu is working to improve the online conversion rate for retailers.
Follow us on social media for the latest updates in B2B!
Twitter – @MarketScale
Facebook – facebook.com/marketscale
LinkedIn – linkedin.com/company/marketscale
Latest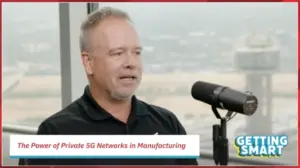 September 25, 2023
The Convergence of 5G and Automation in Manufacturing: A New Industrial Revolution The manufacturing industry stands at an inflection point. Advances in 5G technology and automation are coming together to transform the way products are made, and the role that humans and machines play in this process. Per Treven, Director of Business Development at Ericsson, […]
Read More