NRF 2019 in 60 Seconds
There was so much to see at NRF 2019. Anyone in attendance can attest to the fact that three days was barely enough time to catch up on everything presented at the Javits Center this week. MarketScale hustled through every nook and cranny of Retail's Big Show to learn what industry experts were seeing, what they were most excited about, and most importantly if they planned on seeing a very special celebrity speaking engagement.
If you missed the show, we condensed the event into 60 short seconds to give you a glimpse of what you missed. For more thoughts and perspective, be sure to check out all of our comprehensive NRF content, including podcasts, articles and many more videos!
NRF Tuesday Update
With the first day of NRF under his belt, MarketScale's Chief Digital Editor Geoff Short joined the podcast to provide an update of what he has seen so far. He marveled at the advancements in facial recognition technology, talked about his favorite booth so far, and provided an update on whether or not he has eaten one of those famous New York hot dogs.
He also talked about the various ways that retailers are approaching the challenge of creating a memorable customer experience inside brick and mortar stores. "There's a lack of consensus about experience," Short said. "I know that's something that everyone who has read a single article on retail in the last couple years knows is sort of the overhanging cloud."
It's possible that no group of companies benefit as much from NRF 2019 as those with space in the Innovation Lab. Designed to group start-ups together in an easy to navigate area, the Innovation Lab is a carefully curated group of businesses that the NRF believes have something significant to show off.
MarketScale took a private media tour of the area on the first day of NRF 2019 to see what stood out amongst these rising brands.
Perfitly: More and more, shoppers have turned to the internet to purchase products because of its convenience. In the clothing and fashion industry though, there are still some elements that simply cannot replicate the brick-and-mortar experience, mainly trying on items. Perfitly attempts to solve this issue through AR/VR visualization. Users create a digital avatar based on two simple photos of themselves. The avatar can be used on any clothing brand's site that teams with this startup. The technology uses 240,000 data points to make the avatar and clothing sizes as accurate as possible and a spokesperson said their clients have seen a reduction in item returns from 28 percent to 10.
Follow us on social media for the latest updates in B2B!
Facebook – facebook.com/marketscale
LinkedIn – linkedin.com/company/marketscale
Latest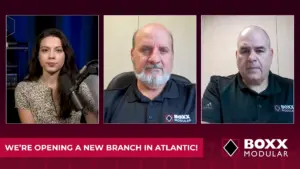 December 4, 2023
In an era where construction innovation is reshaping the industry, modular construction's growth continues to rise. In this episode of Built Modular, Boxx Modular's strategic expansion into Moncton, Atlantic Canada takes center stage. Host Gabrielle Bejarano welcomes Charles Landry and Ray Girouard to explore the implications of this venture. Bejarano, Landry, and Girouard discuss […]
Read More