Reducing Returns from Online Shopping with Augmented Reality
Almost any good or service can be provided online in today's day and age. You can do just about anything, from browsing and ordering clothing online to ordering groceries on an app and having them delivered to your home. But when it comes to retail shopping for clothing items, how will you know if something truly fits and that you will like?
There's no surefire way to tell unless you physically try it on, right? Wrong! Now, retailers are utilizing technology so that consumers won't even have to step foot in a store to know whether or not an item will fit and how it will look on them. Shopify has found this to be an effective strategy, reporting a reduction in returns by 40 percent. 
You might wonder how augmented reality can be effective in retail and how and why it works. 
On today's episode of Relevant Solutions, Host Christine Russo speaks with Vadim Rogovskiy, CEO at 3D LOOK, to discuss how augmented reality penetrates and transforms the retail industry and eliminates the number of returns.  
Rogovskiy explained the accuracy of augmented reality in retail compared to traditionally used techniques: "With technology, we finally can measure human bodies super precisely, super quickly with just two images, and believe it or not, it's often more accurate than what you can expect from professional tailors." 
Russo and Rogovskiy also discussed… 
Why the market wasn't ready for this augmented reality in the 1990s

 

How the augmented reality can accommodate varying consumer preferences in clothing fit

 

How body habits and fits differ from one state to another and how this has influenced sizing charts

 
Rogovskiy explained how augmented reality is not just transformative for consumers but is also efficient for supply chains. "Ultimately, the retailers need to understand how their consumers actually look, what are their body shapes, those different locations, and what are the correlations between their body shapes and what they buy, what they keep, what they return…and so they can incorporate this intelligence into their supply chain," he said. 
Rogovskiy is the founder of three businesses—AdCenter, Clikky, and 3DLOOK. He is currently CEO of 3DLOOK. Rogovskiy is also a Geek Ventures partner, a New York Angels investing community member, a mentor for 500 Startups, and a Contributor at Forbes Technology Council. He has a Master's Degree in Management of Organizations from Odesa I.I.Mechnikov National University. 
Latest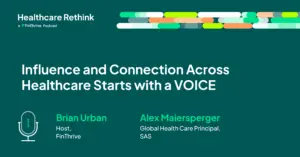 September 29, 2023
In the latest episode of the Healthcare Rethink podcast, presented by FinThrive, host Brian Urban sits down with Alex Maiersperger, the Global Principal Healthcare at SAS. Their conversation charts the role voice plays in influencing and connecting the healthcare industry. Maiersperger, who co-founded the Advancement League, shares his journey from being a healthcare optimist to […]
Read More