Retail Expert Mailbag: March 5, 2019
The retail world is known for constant change. Today, industry insiders may have more varied opinions on the future of the field than ever before. MarketScale wanted to catch up with a few experts to get their opinions on some of the most pressing questions in their field today.
In today's mailbag we hear from:
Andrew Busby, Founder and CEO, Retail Reflections
Tony D'Onofrio, CEO, TD Insights
Ryan MacInnis, Director of Marketing, Notarize
Carol Spieckerman, President, Spieckerman Retail
Where is there momentum in the industry right now?
Andrew Busby: Tech driving retail businesses is hugely significant. AI especially is increasingly moving the dial and will continue to do so for many years.
Tony D'Onofrio: I see momentum in brands investing in digital-to-physical connectivity to their consumers. Omnichannel is an overused word, but it is the critical element to continued success. See retailers increasing investments in store associates. Winning retailers will have both their customers and associates as viral brand ambassadors. At the center of the momentum is increased focus on strengthening the value of the store brand.
Ryan MacInnis: There is a ton of momentum in experiential retail. Brick and mortar is being reimagined, and a lot of what we're seeing in the physical world is an extension of online. Ten years ago,] it was the opposite.
Carol Spieckerman: In the not-so-distant-past, most conversations about momentum in retail would have focused on which categories were taking off. These days momentum is happening in many different non-traditional arenas. I'm tracking one because it has far-reaching impact on all the others: the acceleration in platform partnerships.
These days, retailers are no longer just places that sell stuff, and brand marketers and service providers are no longer just companies that sell stuff to retailers (at least they shouldn't be thinking of themselves that way). Most are starting to operate a lot more like platforms that tie together bricks, clicks, big data, content, acquisitions, new formats and so much more. The opportunity to forge platform partnerships is a natural outgrowth of this reality and it marks a major departure from retail's insular past. We see it taking many forms – everything from online marketplaces which essentially have retailers making their online platforms available to third party sellers, to partnerships between brick and mortar retailers and digitally-native brands in which physical retail locations are the platform. We will continue to see these partnerships proliferate, evolve and accelerate as various retail stakeholders become more comfortable forging them and as they see the scale-building potential being realized.
Where does the industry stand compared to this time last year?
AB: Same issues, same challenges affect retail like never before. We're witnessing a rapid evolution the likes of which none of us have ever experienced. Old ways of doing things are no longer fit for purpose and retailers are having to come up with new answers to new problems.
TD: USA retail overall had a good year in 2018, with sales up close to 6 percent, after an increase of 4.5 percent in 2017. Counter to the over-hyped retail apocalypse, 3,600 net new stores opened in 2018. Some concern with latest USA government data which points to 1.2 percent decline in December. Key will be the current retailer earnings announcement cycle. My view is that it will confirm winners and losers with the differentiation being their connectivity to consumers, increasingly through digital innovation.
RM: Not much has changed overall, but a few more brands are taking risks to differentiate themselves for consumer acquisition and experience.
CS: It's tempting to rely on consumer data and retail sales figures to determine year-over-year progress in retail. However, at this point, many retailers and brand marketers are still very much in investment mode. That's great news because the companies that have made it this far are now taking the long view. That can equate to unimpressive performance, or even losses, for the short term but we will see many leaps forward in the mid-to-long-term. In the meantime, the experiments that retailers are running right now, many of which are not being publicly disclosed, will define retail's future. Those that are investing now will determine where everyone else has to go next
Who is doing an exemplary job in retail today and how?
TD: Zara (Inditex) and TJX in how they create scarcity or deep discounts that lead to continuously loyal customers looking for that special item that might not be available tomorrow. Zara also for their heavy investments in IoT to deliver on the Fast Fashion model and their continuous experimentation to improve customer experiences through technology.
Walmart and their physical-to-digital journey expansion plus investment in their associates. Amazon with the Prime loyalty program, in pushing the innovation envelope with Amazon Go and voice through Alexa. Nike and the flagship House of Innovation stores that they recently opened in Shanghai and New York, which have multi-floor differentiated immersive differentiated consumer experiences. Ulta Beauty with their digital strategy and loyalty program. The resurgence of Ashley Stewart through a digital media strategy and passionate consumer and associate brand ambassadors. Restoration Hardware with their loyalty program and experiential retail model.
There are multiple other examples in both the United States and the world of retailers. Key elements to success include focus on digital transformation, differentiated loyalty programs, and technology investments such as IoT to get closer to consumers.
RM: Amazon — what they're doing with their brick and mortar pop up experiences is fantastic. Allbirds is also taking notice, establishing a brand and presence online and using physical locations as an extension of that.
CS: I'm reluctant to single out a retailer or retail-support company since everyone is doing something different and succeeding on different fronts. I'll give props to Walmart for attacking customer convenience from multiple angles and forcing others to do the same. They've really raised the bar in clicks-to-bricks synergy. Walmart has also set the standard for retail acquisitions and assimilation. When it comes to building a multi-model product, brand, solution, entertainment and data platform, there's Amazon and "everyone else." Brands like Nike are really showing off the potential to build engagement outside of traditional wholesale relationships and to own the brand connection with consumers across multiple touch points.
What is the biggest challenge for retailers today in your mind?
AB: Simply trying to keep up with the ever-evolving expectations of their customers whether it be in store, online or fulfillment.
TD: Amazon and Walmart are outspending the majority of retailers on innovation by multiple billions of dollars. Amazon innovation budget is $15+ billion and Walmart is $10+ billion. Digital transformation is not cheap, but it is critical to growth of the brand. Finding that right mix will define the winners and the losers.
RM: The biggest challenge retailers face is finding a balance between digital investments and physical interactions. Swing too physical and you've lost to Amazon. Swing too digital and you lose the control you had when shoppers came to your brick and mortar experience.
CS: The biggest challenge retailers face is one of prioritization. Largely, thanks to those platform partnerships that I addressed earlier, retailers have access to all kinds of innovative solutions. It really is a be-careful-what-you-wish-for situation in which every possibility seems to be "out there," yet choosing where to invest is difficult. I define the looming question as "buy, build or bridge?" Deciding when to build solutions internally, when to rely on platform partnerships that build bridges to new opportunities or when outright acquisition and ownership makes more sense. The best answer will usually be "all of the above" – flexing between buying, building and bridging and continuing to revisit those choices. It's a daunting task but clearly, relying solely on internal capabilities and resources is no longer the answer.
What is the best thing that has happened to retail in the last year?
AB: The realization that A) retailers don't have to compete with Amazon and b) that Amazon won't be around forever.
TD: The opening of Amazon Go early in the year set in motion greater focus on increased consumer independence in defining their shopping journey. See the trend of autonomous stores continuing with more models coming online in 2019. Self-checkout solutions including stationary POS locations and mobile Scan & Go will expand their market presence. These shopping model changes are important as it will put greater focus on creating strong brand value, i.e. why should I shop into your store versus your competitor?
CS: The openness to outside partnerships and new collaborative models and resulting influx of new thinking. After years of attempting to do everything themselves, retailers are getting more comfortable with looking outside their walls, and not just for talent. Retail is making leaps through partnership, not original thinking.
What is one thing you've learned at a recent industry event like NRF?
AB: That in actuality, tech is purely an enabler and the most important thing is us – humans. Above all, retail is a very human entity and relies on emotion, relationships and trust.
TD: The Asia digital innovation invasion to the West is just getting started. Alibaba made its appearance at NRF for the first time showcasing their FreshHippo (Previously branded Hema) physical stores with intensive digital innovations inside. JD.com also showcased their smart vending machine using cameras and linked to the WeChat app. Alipay (Alibaba) digital pay is now in 40+ countries and in the United States it already has 4+ million users. Let's not forget China's Singles Day on November 11 where Alibaba had $30+ billion in gross sales in 24 hours. Currently, JD.com is opening 185 drone airports in Southwest China to use for deliveries. If you want to understand how digital technologies will evolve, on many levels, you need to look to China.
CS: NRF and other industry events and forums continue to reinforce my mantra that "the store is (still) the core." Retailers are wisely swinging attention back to brick-and-mortar after years of somewhat myopically focusing on digital. The digital re-thinking of brick and mortar will mark one of the most exciting eras in retail. Store shopping is poised to become as exciting and intuitive an experience as e-commerce.
Send us your questions for the next retail mailbag on Twitter!
For the latest news, videos, and podcasts in the Retail Industry, be sure to subscribe to our industry publication.
Follow us on social media for the latest updates in B2B!
Twitter – @RetailMKSL
Facebook – facebook.com/marketscale
LinkedIn – linkedin.com/company/marketscale
Latest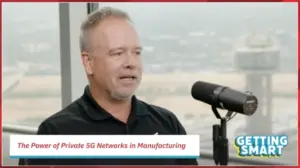 September 25, 2023
The Convergence of 5G and Automation in Manufacturing: A New Industrial Revolution The manufacturing industry stands at an inflection point. Advances in 5G technology and automation are coming together to transform the way products are made, and the role that humans and machines play in this process. Per Treven, Director of Business Development at Ericsson, […]
Read More