Retailers Deep Discounts Meant a Busy Black Friday

2022 marked record years for Black Friday and Cyber Monday sales. CNN Business reports that "online Black Friday sales in the United States topped a record-breaking $9.12 billion this year." According to Yahoo News, "Cyber Monday sales rose to $11.3 billion from a year earlier, making it the biggest U.S. online shopping day in history."
But alongside historical e-commerce sales, brick and mortar enjoyed tremendous gains that exceeded reasonable expectations, according to Paul Sproles, Director of Category Insights & Analytics at Ocean Spray. Sproles indicates that a 17% increase in foot traffic was largely unexpected, and was likely created by retailers offering deep discounts and deals this holiday season.
Paul's Thoughts
"Holiday sales for 2022 are starting to roll in and Black Friday, small business Saturday, Cyber Monday, all experiencing huge growth. Anywhere from 12-14%.
An exciting number coming out is a 17% increase in foot traffic, that's not something that was expected. We had three to four weeks of lead up to Black Friday where retail America was working extremely Harding, sales Black Friday. There was an expectation of lowers foot traffic. However, 17% is an extremely strong number.
The American good consumer is resilient with getting out the stores and finding deal. Those deals were extremely high. This is something that has not been seen recently. And there is obviously a concern that could be setting a new precedent. The 20% is no longer viewed as a huge benefit to consumer, so we'll see how that works out in the long run.
For me, the big winner in this holiday was Walmart, not. On a pure sales standpoint in the foot traffic. But I think that being the number one online search for holiday save sales is incredible for Walmart. That is something that has been in Amazon's, Purview for many years now.
Walmart did take over the number one and I think that is something that will push them as continue to.
Latest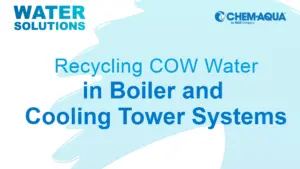 December 7, 2023
For the latest episode of ChemAqua's Water Solutions podcast, the focus was on an innovative approach to water conservation in the dairy industry. The show examined the potential of reusing Condensate of Whey (COW) water, a byproduct of dairy processing, and highlighted some of its economic and environmental benefits. Hosted by Dani Waddell, the informative […]
Read More