Solving Retail Challenges with Computer Vision
Designed for retail leaders and lovers alike, Retail Refined explores the in-store technology of the future, challenges the industry's preconceived notions, and brings together retail's biggest names to understand the brand strategies that will define the next decade in retail.
Customer experience, inventory control, and interactions are all challenges for retailers. The pandemic only exasperated them; however, technology is closing the gap. Host Melissa Gonzalez spoke with entrepreneur and technology expert Skip Howard, Co-Founder and CEO of Spacee, about what his company is doing to support retailers.
Spacee has several computer vision and AI products for retailers, including contactless touchscreens and automated inventory solutions that use augmented reality. Howard summed up the company's niche with, "We use computer vision to solve retail and supply chain problems."
Since COVID, the company has been a great answer to customers not wanting to touch anything. With their Hover framework, customers can experience the product without contact.
What's unique about their touchless technology is that it's not dependent on a touchscreen display. It's also reusable with a content updated. In designing the product, Howard said, "You can have the greatest tech in the world, but if the UX isn't good, it won't matter. We have a UX-first approach."
On the interactive side of the house, the technology can also attribute and track, modeled on standard KPIs similar to Google Analytics. "The technology can track actions taken with digital experiences, count triggers for conversions, and provide granularity on browsing vs. buying. We also have data scientists that identify trends and practice multi-variant testing, which we deliver to clients," Howard explained.
They are also assisting grocery stores with inventory management with their Deming Robotics products.
"Grocery stores, in general, are more cash positive right now but dealing with problems in fulfilling online orders, so our robotics products have taken off. Knowing what's on your shelves in real-time is solving these challenges," Howard noted.
Gonzalez and Howard also discussed the "what's next' for in-store experiences, touching on the future of self-checkout, AI, human interaction, and automation.

Latest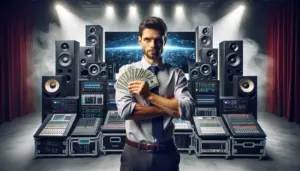 December 8, 2023
Mastering AV sales strategies in a global professional audio-visual (Pro AV) market, poised to reach $79.2 billion by 2028, requires much attention to detail. The surge in demand from corporate, government, and institutional sectors, driven by the need for enhanced productivity and efficient working environments, gives AV sales pros a lot of opportunity. In […]
Read More