The Key Takeaways from Shoptalk 2022
Key Insights:
To remain relevant, retailers must create hybrid shopping experiences.
Data provides retailers the ability to customize and personalize shopping.
Human-centric decisioning is essential to consumer retention.
Recently returning from Shoptalk 2022, Melissa Gonzalez, host of Retail Refined and CEO and Founder of The Lionesque Group, broke down the focus of the event: tracking shoppers with the ultimate goal of retaining their repeat business.
With the digital age increasing competition of online and in-store shopping, retail owners must keep up with consumer demands and habits. According to Forbes.com, "There's no 'going back to normal,'" and retailers must prepare for continued increase in reliance on non-traditional shopping.
This sentiment was echoed and expanded upon at Shoptalk, where three main topics were discussed.
First, new and hybrid store formats are required to help "keep things fresh." This entails pop-ups, kiosks, and flagships in addition to online, but each format should be intentional and strategically implemented to satisfy consumers' needs holistically. Gonzalez emphasized, "Each should serve a purpose, and all should be integrated. So, think of your store as that network effect."
Second, initiating a robust, intuitive, and mutually beneficial — for both the company and consumer — the operating system is essential. "Physical retail stores need a powerful plug-and-play operating system to empower seamless digital enablement for both staff and shoppers," Gonzalez noted. From the consumer lens, this will look like interactive window shopping, online fitting room technology, and frictionless returns. However, what powers these experiences? Data. Gonzalez encouraged listeners to invest in and embrace data to fully understand consumer patterns and tailor experiences to the individual.
Third, retailers must bring human-centric thinking into the retail experience, because while buying is transactional, shopping is emotional. Technology and immersive experiences are undoubtedly integral to retail; however, how can retailers make their experience more personal and human? "Keeping the consumer at the heart of your decision making and bringing in those emotions that elicit that human connection are critical factors to keep people coming back to your brand," Gonzalez noted.
Latest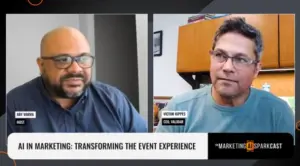 November 28, 2023
AI has been gradually changing the landscape of event technology at a very rapid pace. In an industry where staying ahead of technological trends is crucial, AI's impact on marketing and event management has become increasingly significant. As witnessed in the rise of account-based marketing and enhanced personalization, AI is effectively reshaping how events […]
Read More