What Makes Customers Want To Come Back to Your Store?
Pauline Bellocq is the Los Angeles Director for IWD.
"I want to talk to you about the store experience after COVID and how this sensory crisis has changed the store experience for what, I think, is going to be the better.
So, first of all, as we all know, the retail industry has taken a big hit with the recent crisis, because stores were closed and restrictions were in place.
Even though things are slowly reopening, a lot has changed on the back end, on the operations side and in the attitude that people have while going into stores.
So, the good news is it looks like people are really eager to go back into physical stores, and people are excited to go back shopping. I think we all missed touching and experiencing the goods that we want to buy.
For some of us, we have a bit of cash that we are ready to spend. And, to do that, we are ready for another experience than just shopping online. That's something that we have done because we had to, but I don't believe this is something that is very rewarding as an experience.
I think of it as an accelerator for a lot of the brands. Some of the brands will not survive the crisis, but I think they were already kind of on the decline. But the ones that are going to thrive are the ones that were able to have a really strong omnichannel strategy and that understood that shopping in a store is more of an experience than just a logistical practice.
If you are able to create an interesting atmosphere, something very unique inside a store, you definitely will benefit from people wanting to go back into the store."
Follow us on social media for the latest updates in B2B!
Twitter – @MarketScale
Facebook – facebook.com/marketscale
LinkedIn – linkedin.com/company/marketscale
Latest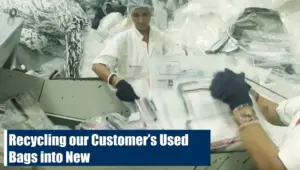 December 6, 2023
This video focuses on EcoLOK4, a groundbreaking product by CONTROLTEK that exemplifies innovation in sustainability. It highlights the process of transforming landfill waste into new deposit bags, with 90% of each bag's material being repurposed trash. This initiative not only reduces waste but also closes the sustainability loop, demonstrating CONTROLTEK's commitment to environmentally friendly […]
Read More