Business Casual: The Evolution of the Marketing Landscape
Chris Zona, Director of Brand & Marketing Communications for Gilbarco, helped break down the shifting marketing landscape from the traditional approach to focusing more on digital and content marketing, utilizing new techniques, technology, and social platforms to get a brand message across.
"A lot of people make the misconception that it's a shift completely to digital," Zona said. "Digital is shaping the landscape of everything that we're doing now, but it's just making it a little bit easier and a little bit more effective for us. We're not abandoning traditional marketing. For the longest time, especially in an industry as old as ours in the petroleum industry, it was tradeshows and corporate dinners, face-to-face meetings, and advertising and traditional print publications. And that's not to say we're not doing that anymore; I think we're just being smarter."
Does this digital evolution in marketing change the sales funnel, and, if so, will it improve sales processes, or are there pitfalls to navigate?
"The shift to digital and the measurement tools have advanced," Zona said. "Now, sales are much more measurable with tools like Salesforce, PRM tools and customer relationship management tools. The shift to digital has allowed us to get more focused. You can do things you couldn't do before."
Digital marketing isn't new, but even if the landscape isn't shifting, the platforms on where to market and the tools supporting these platforms are. What are some of the more reliable tools out there to support the digital and content marketing efforts?
"We try to control our platform and keep it in house," Lopez said, though Gilbarco does rely on Salesforce for their sales funnel and Hubspot for their inbound and outbound marketing. "The platforms are certainly important, but I think how you do it is more important than that. The one takeaway I've had in the last five years is authenticity. Being true to who you are as a brand, and true to who your customers are, and delivering real messages to them; there's so much noise out there now, and people can see through things that are inauthentic."
Latest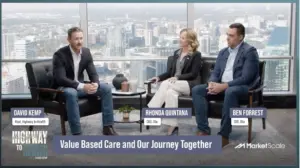 December 7, 2023
As of recent times, the healthcare industry has been progressively shifting towards value-based care, a model that emphasizes patient outcomes over the quantity of services delivered. This transition represents a significant shift that promises to enhance patient experiences and outcomes while controlling healthcare costs. With a growing emphasis on this approach, especially over the […]
Read More