How to Communicate IT's Value to Education Stakeholders More Effectively
Successful campus CIOs don't just find ways to create value for their college or university with the help of technology. They also communicate this value effectively across the institution.
Communicating the value that IT brings to a college or university "goes a long way towards improving employee morale, building relationships with constituents, and reinforcing the role of the CIO as an integrative leader," says Raymond Lefebvre, vice chancellor for information technology and CIO at the University of Massachusetts-Boston.
At many institutions, this information is shared through annual reports that are heavy on statistics, such as the number of WiFi access points installed or the number of tech support tickets closed out. But facts and figures aren't very inspiring.
Lefebvre has taken a different approach by publishing a print and digital "IT Outcomes" magazine that breathes life into the IT division's accomplishments at UMass Boston. A practice he first started as the CIO at Bridgewater State University, the annual publication includes photos, quotes, and stories about how these achievements have improved scholarship and campus life for students, faculty, and staff.
For instance, the 2019 edition describes how the IT division has helped make instructional materials more accessible for individuals with disabilities by adding an artificially intelligent program called Ally to the university's learning management system, Blackboard. The software automatically checks course documents uploaded to the LMS for common accessibility issues. If it finds any problems, it offers guidance on how to bring the documents into compliance.
The publication also reports how IT staff upgraded 181 out-of-date computers in a very cost-effective way by swapping their hard drives for new solid-state drives — saving an estimated $200,000 in the process. By telling the story in a narrative format and quoting lab operations manager Max Razdow, the article puts a human face on the impact this change has made for the university, while also highlighting the work of individual contributors.
Lefebrve begins compiling this annual publication each spring. He sends an email to IT staff, asking them what accomplishments they're most proud of. Using this feedback, he identifies about a dozen possible story lines and assigns them to a freelance writer. He uses student interns for the design process, and he tries to have the finished publication available in time for the president's cabinet meeting in December.
By communicating IT's value to the university in a much more compelling way, Lefebvre and his team are building credibility with the president, board, and other stakeholders, while also boosting the morale of IT staff. "It makes them feel connected to a greater sense of purpose," he says. "They get to see how they're making a big difference on our campus."
Chris Campbell, CIO for DeVry University, agrees that CIOs will be more effective if they can communicate IT's value to their institution in practical, human terms.
nicating the use of technology in relation to the business of the university or the experience of the student, the more effective you'll be," he observes. "People's eyes roll right back into their heads when you talk about VPNs and widgets, those types of things."
Besides focusing on the people and outcomes supported by technology instead of a bulleted list of IT enhancements, Lefebvre recommends using multiple modalities to communicate technology's value to the institution — such as print, digital, and video. Also, make sure all stakeholder groups are represented, he advises: "Every key constituency needs to see itself reflected in the successful IT outcomes for the year. That's very important."
He concludes: "The number of devices installed in the last year is meaningless. It's the learning outcomes that people want to see — and the story of how technology has enabled these outcomes is what we should be telling."
Latest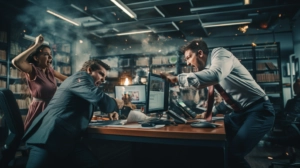 September 22, 2023
The kind of news that is delivered everyday serves as a grim reminder of the escalating violence across the U.S. Evidently, the need for proactive measures to ensure safety has never been more pressing. Such violence is not limited to any particular locale. It's actually permeating in so many different areas once considered […]
Read More