Self-Driving Robots Deliver the Goods for Several Retailers. Should It Become an Industry Standard?
More and more retailers, from apparel outlets to grocers and c-stores, are experimenting with robot delivery methods for last-mile customer convenience in order to solve delivery inefficiencies. According to reporting out of Restaurant Dive, gig delivery company Postmates found that over the course of seven years, the company delivered 90% of its orders by car when more than half of orders were of a walkable distance. Next time one craves a Big Gulp, there may be no need to hike to the nearest 7-Eleven. Thanks to a new collaboration with ex-Postmates' Serve Robotics, 7-Eleven will soon test self-driving robots to deliver customer orders in Los Angeles.
The grocery retailer Kroger, who is joining 7-Eleven in the robot delivery game, is bringing self-driving robot delivery service to the San Antonio, TX, area. This online-based delivery service includes an automated fulfillment center poised to bring 160 new jobs to San Antonio. AI robotics vehicle company Nuro will handle Kroger online deliveries in Houston. Nuro's autonomous vehicles are roughly 20% smaller than a typical car and can carry up to 500 lbs. in a trip. Utilizing this self-driving robot technology provides a cost-effective method to offer delivery options to customers without making the service charges astronomical.
Automated robot technology is gaining momentum in many industries, including hospitality, where self-driving robots deliver room service. It's a natural next step for robots to hit the retail delivery circuit. So, does this mean the end of traditional delivery methods from retailers, especially in last-mile delivery settings?
Brian's Thoughts
Brian Kava, CEO of same-day delivery company PICKUP, recognizes the benefits self-driving robots can bring to the retail channel but also sees some challenges.
"The use of robots in retail, it's certainly an interesting dynamic. Autonomous delivery is great for supermarkets, grocery stores, takeaway foods, and restaurants as a real cost-effective way to optimize the last mile. However, it leaves out a very critical factor, the human experience. That's what most consumers are looking for.
For big and bulky items, the perfect delivery requires humans to maneuver and cross the home threshold. This is done with efficient white glove service that can only be achieved with a human touch. Most importantly, you must get it right because most consumers will only give you one chance."
R.K.'s Thoughts
R.K. Anand, founder & CSO at Recogni, which provides state-of-the-art visual perception for autonomous vehicles, was more optimistic about the current state of robot delivery for retail.
"If you look at DoorDash and Uber Eats, they generate billions of dollars of revenue. As a society, we have already become comfortable with what is called near-real-time delivery.
And so, there is a large opportunity for robots to come in and enhance that capability. Some advantages of robots are that you can get 24-by-seven delivery and do that effectively without having humans in the loop and the logistical challenges that come along with it.
There is a high degree of energy and enthusiasm for retailers to do what I call short-range or near-neighborhood delivery. Obviously, these retailers are looking for technology and choices and opportunities to do that.
Some of the critical elements are that this technology has to be able to be inexpensive. That means the product itself, the robots, have to be inexpensive. They need to have a sustainable range, and they need to have a high degree of utilization. And for these, the right technology choices have to be made.
Inexpensive cameras, batteries that have capacity and range, and compute that do not drain the back battery range and hence make the product and the robots have a high degree of utilization and far more useful."
Asked if he viewed events like theft or vandalism as hindering the adoption of these last-mile robots, Anand had this to say.
"These are certainly important considerations to be thought about, but I believe, and the industry broadly believes, that technology can overcome this and solve these things."
Latest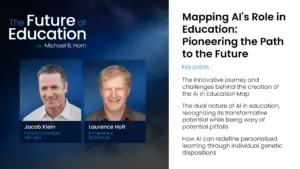 October 2, 2023
Mapping AI's role in education should be a critical step in bringing together innovative technology-based solutions with the expertise of human educators. With rapid advancements in artificial intelligence and an increased reliance on technology-driven educational solutions, the education landscape is on the brink of a significant transformation. AI promises highly personalized learning experiences, efficient administrative […]
Read More