Security at the Edge for Front-of-House Bank Operations
With the global IoT security market poised to grow from an annual $12.5 billion to $36.6 billion over the next five years, it is clear the need for solutions to protect the front-of-house bank operations is imperative. Devakumar Rajagopalan, Banking Segment Marketing Manager, and Wallace Lee, Senior Platform Solution Engineer, both with Intel's Internet of Things Group, brought their insights on the current situation to this episode of To The Edge and Beyond.
Rajagopalan spoke about the frequency of cybersecurity events occurring in banking.
"Every day, we hear of an organization where there is a data breach or a customer is losing money from their account with stolen credentials," Rajagopalan said.
And how does the pandemic factor into these issues and risks?
"2020 was a challenging year for banks when it comes to cybersecurity," Rajagopalan said. "Because of COVID, the customer has to do more virtual banking, and employees are working from home. This has created the biggest cybersecurity challenge for banks."
Rajagopalan noted that, during comparative periods in 2020 vs. 2019, the number of cybersecurity incidents was up significantly.
"There is no doubt the financial industry's done a good job keeping up with the investment in cybersecurity infrastructures," Lee said. "Unfortunately, cybersecurity today is still pretty much like a game of cat and mouse. Why, you may ask? Because there is no way to know the vulnerability if you don't know they ever existed."
Edge Computing offers a wide range of security benefits for banks, including the ability to defend the attack right at the source without compromising the overall banking systems – once an attack has happened, there is a high chance it can multiply. This would allow a bank to defend an attack on one individual kiosk at the branch level rather than allowing the attack to spread to kiosks across all branches.
Intel is partnering with Independent Software Vendors, System Integrators, Video Analytics providers, and Banks to deploy and develop Edge security solutions.
Learn more about banking security solutions by connecting with Devakumar Rajagopalan and Wallace Lee on LinkedIn or visit https://www.intel.com/content/www/us/en/financial-services-it/financial-services-overview.html
Subscribe to this channel on Apple Podcasts, Spotify, or Google Podcasts to hear more from the Intel Internet of Things Group.
Follow us on social media for the latest updates in B2B!
Twitter – @MarketScale
Facebook – facebook.com/marketscale
LinkedIn – linkedin.com/company/marketscale
Latest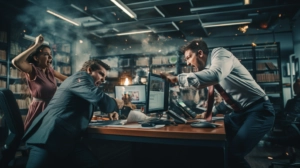 September 22, 2023
The kind of news that is delivered everyday serves as a grim reminder of the escalating violence across the U.S. Evidently, the need for proactive measures to ensure safety has never been more pressing. Such violence is not limited to any particular locale. It's actually permeating in so many different areas once considered […]
Read More