Bridging the Investment Gap and Inefficiencies of Youth Sports
Seeing his own kids grow up playing school sports, Chuck Thompson, Nike Dallas FC president, noticed a gap in youth sports — it is inefficient and doesn't set players up for success. He joined Host Katie Steinberg of Game Changers to discuss the Nike Dallas Football Club and its impact on the community.
Thompson's vision of creating a well-oiled, high-results football club came to fruition through pulling together an elite coaching staff. The team boasts 40-50 years of experience and is comprised of coaches with quite a resume — five with Superbowl trophies, 11 NCAFA conference champions, one Jim Thorpe Award recipient and a sports training business owner — all of which have powerful recruiting connections.
Together, the coaches have a goal of impacting children's lives. The team attracts players across Dallas of any playing ability and economic status who desire:
An additional avenue of competitive training
To obtain an acceptance offer from a D1-level university — preferably with a scholarship.
The club also takes a wholistic approach in influencing their players. For instance, they help organize tutoring to ensure the players can continue their post-secondary education and playing. The club wants the best of the best and those willing to grow.
"We can take all of our players with different skillsets and abilities and give them the opportunity to play at the next level and give them the opportunity to get their schools paid for," said Thompson.
As for the next business venture, Thompson plans to increase community support and recruit sponsors and partners to help impact more kids.
Overall, Thompson sees Nike Dallas FC as a resource for the players in not only their training but also in advisement not only on their future youth sports career but personal life as well.
When proudly talking about one of his players, Thompson explained, "He's now getting a Stanford education because of football, because of his hard work… just to see that emotion, that's what we want."
More Stories Like This:

Latest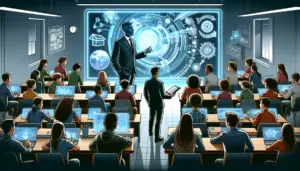 November 27, 2023
In an era where education stands at the crossroads of tradition and innovation, the potential value of thought leadership becomes the guiding star for progress. "Just Thinking" dives into this potential with host Kevin Dougherty and guest Evan Edwards, a Professional Learning Specialist at 806 Technologies who exemplifies the transformative impact of visionary guidance […]
Read More