College Athletes Ponder NIL Deals Through Their University vs. Official License Agreements. Why Not Both?
College Athletes could enter a golden age with NIL deals available through official Licensing contracts and now localized University agreements. Is this a case of choosing one over the other? Perhaps these athletes can have the best of both worlds.
Marquette Athletics unveiled its official NIL (Name, Image & Likeness) Store, a collaborative effort with Campus Ink. This unique platform is a hub for fans to support over 150 Marquette athletes across 12 sports, including standouts like the reigning Big East Men's Basketball Player of the Year, Tyler Kolek. Every piece of merchandise is officially licensed by Marquette University, ensuring authenticity. As the store evolves, fans can anticipate a continuous rollout of distinctive products and custom merchandise tailored for individual athletes. This initiative is part of a broader movement, with institutions like Illinois, Indiana, and LSU also joining the NIL Store network, all under the umbrella of Campus Ink, a company championed by entrepreneur Mark Cuban.
So, with many outlets to capitalize on one's personal brand, do Athletes need to weigh potential NIL deals against each other, or should they take advantage of all that's on the table?
Leigh Steinberg, Sports Agent and Adjunct Professor at Concordia University Irvine admits these are still early times for college athletic NIL deals, with many uncharted waters, but thinks it's lucrative territory that deserves exploration.
Leigh's Thoughts
"We are in the infancy of the development of NIL strategies. Remember, it was only 2020 when California passed SB 206, which gave athletes the ability to hire marketing agents and do commercial deals. And once California did it, that awakened in schools across the country, the concept that California would have the ability, through SC, UCLA, Cal Stanford, and San Jose State, to offer in recruiting athletes significantly more money than other places.
It spread nationally and created pressure on the NCAA, but this has only been going since the summer of 2021 and is still evolving. So, university structures that do licensing deals are coming a little bit late to the table, but late is a relative term in this growing new field.
And I would expect that because of their association with the college campus and their understanding of the dynamics of how to reach their audience is very high, we'll see a blend of independent deals for an athlete and officially licensed and structured deals coming also through the university. So, I think that athletes will take advantage of both of these sources and both these opportunities in the same way they take some deals from the collective and do some deals independently."
Article by James Kent
Latest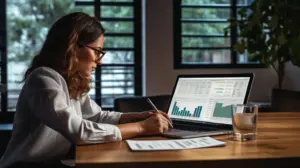 October 4, 2023
The intersection between security and financial acumen often gets overshadowed in a constantly changing economic landscape. While security is essential for safeguarding assets and ensuring continuity, its perceived monetary value is mired in misconceptions affecting company profitability. For many, security is viewed primarily as an expense rather than a potential cost-saver. However, understanding […]
Read More